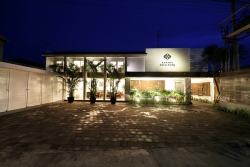 Denpasar, Indonesia, May 12, 2013 --(
PR.com
)-- Astana Bali has been growing and expanding, so much so that the company is re-branding its company to Astana Hospitality Management. As of 1st January 2013, Astana Bali has re-branded its services to Astana Hospitality Management. This new name more accurately reflects the nature of the company, and the fact that it has expanded its operations to include the Republic of Indonesia.
No matter what the name, the goal of Astana Hospitality Management remains the same. Since its inception, Astana Hospitality Management has been committed to supporting villa and property owners, giving them the tools they need to succeed in this competitive industry.
Astana Hospitality Management has distinguished itself through its catalog of comprehensive services, from villa evaluation and setup, standardization of procedures, quality administration, recruiting and training excellent employees, performing day to day villa services, taking care of the accounting and maintaining the reservations database.
Astana Hospitality Management are specialized in helping investors find the most valuable pieces of land for their
Bali Luxury Villas Seminyak
. They also help those investors realize their dreams by helping with all aspects of villa development, short and long-term villa rentals and villa sales. Director of Sales Made Widya Darma comments: "We are ready to handle everything from the legal framework and contracts to the marketing and accounting services for our villa owners." Further, he said: "Astana Hospitality Management is committed to providing the best operational setup for villa owners. Our services run the gamut, from human resource management and security to maintenance and environmental issues." They also committed to maintaining excellent communication with all owners and stakeholders, so clients can feel confident that their systems are all in good hands.
The sales and marketing expertise Astana Hospitality Management brings to the villa industry is just as impressive. Astana Hospitality Management also provide a myriad of sales and marketing services, from refining and enhancing clients property image and running promotions to media advertising, making sales calls and handling agencies.
Astana Hospitality Management is also proud to offer a comprehensive range of reservation services, including running clients reservation system, handling the booking calendar and dealing with both agents and direct booking.
The name may have changed, but the commitment to quality products and services remains the same. Astana Bali is now Astana Hospitality Management, and the company is ready to help villa owners take their businesses to the next level.
For further information, please contact Made Widya Darma, tel: +62361-727755, email:sales (at) astanahospitality.com, website: http://astanahospitality.com