"PKard for Mac" First to Solve Dual Persona for Mac CAC Users – Another First for Thursby Software
Thursby Software Systems, Inc., released a free update of its PKard® for Mac software, including support for CAC dual persona Apple Mac users. It is available immediately.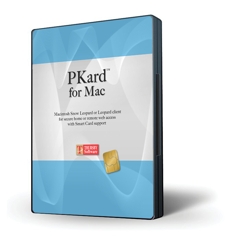 Arlington, TX, May 17, 2013 --(
PR.com
)-- With an ever-increasing number of citizens working as contractors within the U.S. Department of Defense (DoD) while patriotically maintaining their military reserve status, the government needed a way to represent both roles on one common identification card. Instead of the standard DoD identification smart card (called a CAC or Common Access Card by the U.S. government), the DoD developed a card that could represent the individual in both roles. Thus a CAC card supporting a "dual persona" was developed.
Much more challenging to implement and support than the standard U.S. government CAC or Personal Identity Verification (PIV) cards, PKard for Mac is the first supported solution of its kind for Apple Mac users.
PKard for Mac together with its sister app for iPhone and iPad mobile devices, PKard Reader, today supports tens of thousands of users across the DoD and Federal Government.
The free update, version 1.3, also refreshes web bookmarks and certificates, as well as adding a new installation wizard to better cleanup after several freeware offerings. A similar free update for PKard Reader app is being finalized.
Thursby is celebrating over a quarter century of enterprise Apple integration, management and security specialization. Thursby is US-owned, operated and GSA-listed, with headquarters in Arlington, Texas. Thursby have well over 70,000 clients across 140 countries, including organizations with thousands of devices under management, and well over a million software licenses sold. Clients range from government, to finance, healthcare, energy, FORTUNE™ 500, Global 2000 companies, education, research, media and OEMs (Original Equipment Manufacturers). For more information about Thursby and its solutions, please visit
www.thursby.com
.
Contact
Thursby Software Systems, Inc.
Simon Hartley
(817) 478-5070
thursby.com

Contact