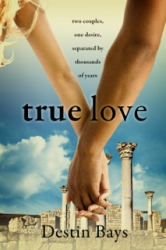 Carson City, NV, June 03, 2013 --(
PR.com
)-- True Love by Destin Bays: Coastline Entertainment, LLC has announced the results of its promotional release of True Love by Destin Bays. Their Kindle Direct Program that ran for a 5-day period attracted over 12,000 people who downloaded the Kindle Edition as the Novel rose to the number one spot under the Amazon Love & Romance category. Coastline also stated that True Love made the climb all the way up to the 21st position in the Kindle Store top 100 list during the same time period. "Quite a feat for the author's first time in the romance category," stated Michael Cooper, Managing Member of Coastline Entertainment, LLC. The company has also provided some sample reviews posted on True Love's Amazon page for reprinting.
✪✪✪✪ "I'm a fan of stories with a powerful theme and this one delivers. Anyone who has had that feeling of destiny when they've met someone will relate to it; love is the connection that survives all, even time."
As posted by Dimitri S. Villard
✪✪✪✪✪ "I thoroughly enjoyed this book. Fun reading, fast paced and with some history thrown in makes it a most enjoyable experience. Loved all the quotes at the beginning of each chapter. Perhaps a little insight of what was to come but very cool on their own."
As posted by Cathie
✪✪✪✪✪ "The story true lovers being united is quite beautiful, but when the love of two people waits thousands of years to be fulfilled it is absolutely awesome!"
As posted by Nancy Fantastic
Anyone who may be interested in the novel written by Destin Bays may download True Love as an e-book or purchase a paperback from Amazon. The following link will take you directly to the novel's listing.
http://www.amazon.com/dp/B008D534IE