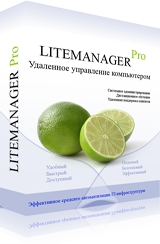 San Francisco, CA, May 21, 2013 --(
PR.com
)-- LiteManager is a remote control software that allows users to remotely access the computer's desktop and control it with a mouse and keyboard, transfer files, browse and edit the registry, stop or run processes and services on a remote computer.
The program offers several unique operating modes. For example, scheduled screen recording to supervise work activity of employees, audio and video chat mode for interactive communication with a remote employee, remote installation and inventory allowing users to collect technical information about a remote computer.
When working over the Internet it is convenient to use Connect by ID mode that allows connecting to a computer by a specified ID without using an iP address. The distinctive feature of this mode is the ability to configure your enterprise server of ID connections.
The program is available as a Pro version (costs from $7 to $10) and as a Free version. The latter can work with no more than 30 computers and available for both home users and businesses. The program is designed for Windows and supports Aero mode when working with a remote computer.
Download:
Litemanager 4.4.3
Read more:
Litemanager - remote control software