New Music from Niva Burning the Charts
Niva the soul diva releases new music fast climbing to the top of the charts.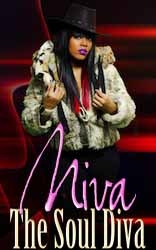 Brooklyn, NY, May 23, 2013 --(
PR.com
)-- Independent music artist and performer Niva the Soul Diva is making huge gains in the world of urban music. Niva who is best known for her highly dynamic rock n soul performances and her inspirational and motivational R&B recordings has made major progress in getting the music world to give her a second look.
In preparation for her upcoming sophomore album, Niva has released some new music for the public to get a taste of what the CD will be about.
The lead single from Niva's new CD is a song called 'Look Inside Your Heart'. Niva calls the song style Urban country Soul music. The track is a genre hybrid meant to crossover the lines of R&B, pop and country.
The track 'Come On And Dance With Me' is a dance track made for summer club goers. The track has shot up to the top 20 on the top DJ record pool urban dance charts and it also debuted as a top pick on the world famous franchise record pool chart. Niva also released a free download of her inspirational song 'Stop The Violence' which features spoken word hip hop poet kamal supreme. The songs is currently at number 11 on the east coast urban charts.
Niva stated "I'm doing all of this great work and I even performed in Vegas but the record industry shows me no love, I know my music is good and these charts prove it." The director of one of the most respected DJ associations said about Niva "Niva's diverse sound and singing versatility is amazing. I was shocked when I heard what she could do."
Niva the soul diva will be performing her new songs at several tour dates throughout the Spring and Summer of 2013. Visit Niva the Soul Diva at www.nivathesouldiva.com
Connect with Niva on Facebook
Contact
New Black Music.net
Mr. Jon Llo
646-379-6780
www.newblackmusic.net

Contact