BT Hanger, the World's Best Belt & Tie Hanger Just in Time for Father's Day
GSI Inc, has announced that it has been granted manufacturing rights to US Patent (Patent number: 7,287,675) for the BT Hanger design.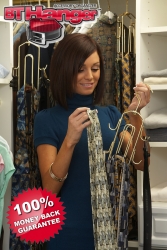 Clearwater, FL, May 22, 2013 --(
PR.com
)-- "The BT Hanger, the world's best belt & tie hanger, holds up to 50 men's ties and 8 or more belts in about the same space as a shirt takes up in your closet," said Cris Peterson, creator, inventor and Patent holder of the BT Hanger.
The BT Hanger hangs on your clothes rack in the closet utilizing minimum closet space and requires no nails, screws or mounting. It's compact design uses less than 10% of the present space of traditional tie and belt hangers yet it is versatile easy to use.
When choosing a tie, you can pick from any, as far as the bottom tie, merely by pulling directly upwards, without affecting the other ties that are hanging above it.
As a way to help Dads on their day, BT Hanger will be offering free shipping though June 12th, 2013 or while supplies last.
GSI, Inc is a global manufacturing and sourcing solutions provider located in Clearwater, FL. From concept to design, to distribution and marketing, GSI can help inventors bring their ideas to market by creating custom strategies best suited to their products. For more information, visit www.bthanger.com or call 727-451-7150.
Contact
GSI Inc
Cris Peterson
(727) 451-7150
www.bthanger.com

Contact