Yellow Pages Dental Marketing is Alive, But Not Thriving: the Wealthy Dentist Survey Results
Dentists are still putting ads in the phone book, but many are growing less enthusiastic about yellow pages marketing, according to a Wealthy Dentist poll. Nearly half of dentist respondents no longer advertise in the telephone book, instead relying on avenues such as dentist websites to meet their dental marketing needs.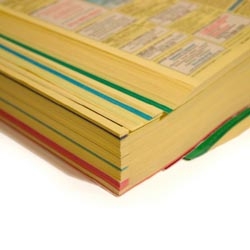 Tiburon, CA, August 20, 2007 --(
PR.com
)-- The majority of dentists (61%) advertise in the phone book as part of their
dental marketing
, according to a poll by The Wealthy Dentist. However, more are abandoning the yellow pages as dental practice websites become an increasingly valuable source of new patients. Thirty-nine percent of the dentists in this poll report that their dental practices do not do any telephone book marketing.
A dentist's geographic location was highly correlated with yellow pages advertising. Rural dental practices are far more likely than urban ones to spend money on phone book advertising. In fact, 3 out 4 rural dentists reported taking out yellow pages ads, whereas less that 1 out of 2 urban dentists did. A Massachusetts dentist explained: "I have the same ad in two different regions of Massachusetts, urban and country. The ad in the country accounts for 50% of new patients, and the urban ad less than 1% of new patients."
Many are concerned that dental advertising be both tasteful and ethical. One dentist cautioned, "Keep 'em professional. Ohio has new rules regarding the advertising of specialty services by a GP, so be careful to disclose 'general' dentist (not 'family, or cosmetic, or implant' dentist)."
Some feel the pressure to advertise just to stay competitive. "Mandatory. Line listings = Losers." said a Texas dentist. "It's a necessary evil," sighed a Michigan dentist. "After 15 years of not doing it, we are now feeling the heat to participate with other dentists in our area who have placing ads," complained a Canadian dentist.
The success of any marketing program can only be determined by considering one's return on investment (ROI). "You absolutely must have a way of tracking incoming calls from yellow pages to determine if it is a benefit for your particular dental office," cautioned an Ohio periodontist who spends $2,000 a month.
The internet has changed attitudes about traditional dental phone book marketing. "Marketing in the yellow pages is a dying trend. I still can't make myself stop, but I question if it is wise use of my marketing budget," mused a West Virginia general dentist. "Antiquated and worthless compared to well positioned dental web site," agreed a Washington dentist.
Some dentists spend thousands of dollars a month on phone book advertising - and to many of them, it is worth every penny. One Florida dentist spending $9,000 monthly raved, "Even though the cost is high, it pays for itself over and over month after month." A Louisiana orthodontist (spending $1,200/month) agreed: "I believe it has been worth the expense so far."
To many dental practices, the phone book is used for informational purposes, not marketing. "It should be only a small fraction of one's marketing plan, more for public access to your phone number and address than for actual marketing," suggests a pediatric dentist who pays $300 a month to be in 4 books.
Other dentists find that while yellow pages ads do bring in new patients, they are not always the right new patients. "Advertising in the Yellow Pages has never attracted the right kind of patient for me; they have always been very price sensitive and not quality-conscious," commented a California dental implantologist. A Michigan dentist agreed, saying, "I don't feel that the kind of patient we are looking for is reading the yellow pages."
"A lot of dentists are concerned that the internet is making yellow pages marketing obsolete, and I just don't understand why they see it as an either/or situation," said Jim Du Molin, dental marketing consultant and founder of The Wealthy Dentist. "Yes, dental websites are the future, but the yellow pages are still a valuable marketing resource for dentists - as long as they know how to market themselves correctly and track their ROI."
For additional information on this and other Wealthy Dentist surveys, as well as more dentist comments, visit www.thewealthydentist.com/survey.
The Wealthy Dentist is a dental marketing and
dental practice management
resource featuring dental consulting expert Jim Du Molin. The site's weekly surveys and dental newsletters are viewed by thousands of dentists across the United States and Canada. The Wealthy Dentist is a sister company of the Internet Dental Alliance, Inc. (www.internetdentalalliance.com). IDA is the largest provider of dental websites, dental patient newsletters and dental directories in North America.
http://www.thewealthydentist.com
Contact:
Jim Du Molin
http://www.thewealthydentist.com/contactinfo.htm
415-435-2820
###
Contact
The Wealthy Dentist
Julia Frey
415-435-2820
www.thewealthydentist.com

Contact