VirtualMob Announces Availability of Point-at-Me Augmented Reality Platform
Self-Serve Mobile based Platform, enabling Augmented Reality Applications for Brands in Minutes.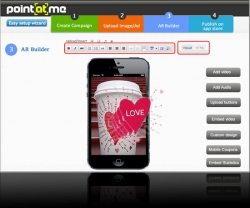 London, United Kingdom, May 29, 2013 --(
PR.com
)-- VirtualMob, the provider of mobile augmented reality solutions to top brands, today announced the immediate availability of the Point-At-Me (PAM) Augmented Reality (AR) Platform, enabling businesses and brands to create AR enabled mobile applications and campaigns in a matter of minutes without any technical knowledge. The platform makes it simple, quick, and inexpensive to create an AR enabled application or campaign.
PAM, which has been in private beta for 1 month, is powering applications and campaigns for more than 200 customers.
"Feedback on PAM from our beta customers has been incredibly positive," said Chaya Jadav, CEO and Co-Founder of VirtualMob. "Brands are realizing the value of AR to more deeply engage with customers and potential customers, to collect data about their products and services, and to grow their revenue. PAM enables them to integrate AR into their current marketing and servicing efforts without a huge monetary or time commitment."
PAM (Point-at-Me) AR Platform Key Features
· Self Service platform – doesn't require programming or design knowledge
· Rich interface builder - Easy to use drag and drop features
· Plug & Play platform - An option to embed PAM into your existing mobile apps, with AR enabled functions.
· Bespoke analytics – Each campaigns can track individual users, location, click through rates and their interactions.
· Point & Purchase - Create additional revenue channels with in-app purchase capabilities
· Embed 3D elements to increase brand engagement and create rich intuitive experience.
· Future compatibilty & Integration with Google Glass
The PAM AR Platform is available for immediate use at
www.pointatme.co.uk
. The PAM application is available in the iTunes app store as a free download and will soon be available for Android.
So go ahead and PAM IT.
Contact
virtualmob
Chaya Jadhav
0041794290795
www.pointatme.co.uk

Contact