Unique Author Releases "Beastly Son" & "The Wolf Whisperer" After Receiving Rave Reviews from the Masses as Reports of Bad Dog Treatment, Maulings & Future of Wolves Echo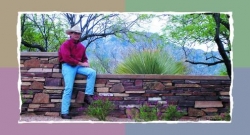 Oro Valley, AZ, August 21, 2007 --(
PR.com
)-- Gold Valley Publications has released Gerard J. Washburn's first allegorical books to Booksurge Publishing Co./Amazon.com for worldwide distribution.
Beastly Son: 1000 review (special edition) copies were distributed; Beastly Son has been heralded Great by neurological patients, dog/animal lovers and those who have experienced the loss of a loved one, young and old alike. This book is a rare glimpse into the minds and hearts of a young onset Parkinson's Patient and an extraordinary Alpha Wolf - a story that will enrich your inner being. Gerard wrote the tragedy of PD and loss of a loved one with an outpouring of heartfelt emotions which in turn has become a blessing as declared by those who've read this True Story. He brings the reader right there without compromising the Truth, yet leaves enough for them to create one's own atmosphere, while finding it difficult to put the book down.
The Wolf Whisperer: A natural continuation for Gerard's writings - a tremendous story of exceptional, mystical experiences as told by The Wolf Whisperer, Darrell R. Ayers. Darrell's Dad and other relatives were noted Horse Whisperer's who trained horses for people such as the Lone Ranger, Tom Mix and others. The setting starts in San Jose, California to the mystical, enchanting Arizona White Mountain Apache Nation - lending the reader a unique and exciting ride. While reading this intriguing book, you will surely be left with thought-provoking wonderment that will spur your imagination and cause your heart to soar like an eagle.
Both books are now - or soon to be available via: Amazon.com, Borders.com, Abebooks.com, Alibris.com, BooksinPrint.com, and GlobalbooksinPrint.com.
###
Contact
Gold Valley Publication
Rebecca Washburn
520-219-8002
www.goldvalleybooks.com
520-979-7609

Contact