Lindi Lauren Launches Flirty Dirty Wear Clothing Co.
Hawaii supermodel, Lindi Lauren has announced the formation of a new and unique Eco clothing company that dyes their apparel in Hawaii's infamous "Red Dirt." Merging with the founder of the 20 year old "Original Red Dirt Shirt Co." which had specialized in men's shirts this new company focuses on women's sexy apparel. Lindi says "What makes it really unique is the cute and "Dirty" double meaning sayings available for printing on the apparel. This is the first company to offer such a product."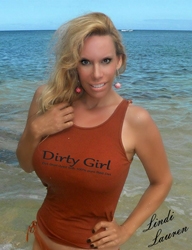 Kapaa, HI, June 05, 2013 --(
PR.com
)-- Lindi Lauren LLC announces their new company website www.flirtydirtywear.com. At this site a variety of "Red Dirt" dyed apparel is now available including sexy T-Shirts, dresses, Lingerie and bathing suits.
The "Original Red Dirt Shirt" was invented over 20 years ago after hurricane Iniki blew down the owners T-shirt factory. Thousands of white shirts were stained in Kauai's "Red Dirt" and there was nothing the owner could do to save them. After trying to wash and bleach the shirts and almost giving up he said "that's a cool color lets work with nature and dye them in dir.t. These Eco shirts with such masculine sayings as "Older Than Dirt" took off and are still a favorite of islanders and tourists. Millions of mens shirts have been sold and now Lindi Lauren LLC is launching a women's line on their new company website www.flirtydirtywear.com.
Working with the founder, Lindi, Hawaii's busty top swimsuit model, has come up with the clever idea of making sexy "Dirty Shirts" for women using no caustic dyes just pure Red Dirt. These unique "One of a Kind" Eco shirts have the customers chosen saying printed on them. Lindi has picked out over 50 cute "Double Meaning" tongue in cheek copywrited sayings that are available such as "Dirty Girl," "I (heart) Being Dirty" and "Flirty and Dirty." Lindi says she loves wearing the sexy stretch tanks and watching the attention and smiles she gets from passers by. You can get more information on Lindi at her web site http://www.lindilauren.com or her company site http://www.flirtydirtywear.com.
Contact
Lindi Lauren LLC
Robert Hedin
808-651-7148
www.flirtydirtywear.com
Lindi Lauren at www.lindilauren.com and lindilauren4@yahoo.com

Contact