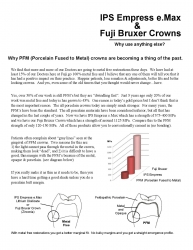 Dallas, TX, June 04, 2013 --(
PR.com
)-- Metal Free Dentistry
IPS Empress e.Max & Fuji Bruxer Crowns
Made in USA!
Why use anything else?
Why PFM (Porcelain Fused to Metal) crowns are becoming a thing of the past.
It appears that more and more Dentists are shifting toward metal free dental restorations these days. Kip Estep, owner of Fuji Dental Lab in Rockwall, TX has had at least 15% of their Dentists go 100% metal free and he believes that any one of them will tell you that it has had a positive impact on their dental practice. "Our Dentists have experienced happier patients, less remakes & adjustments, better fits and better looking crowns," said Estep. "And yes, even some of the old timers that you thought would never change...have."
Yes, over 50% of Fuji's work is still PFM's but Estep says that number is "dwindling fast." Just 3 years ago only 20% of the work produced by Fuji Dental Lab was metal free and today it has grown to 43%. One reason they believe is today's gold prices, but they don't think that is the most important reason. The all porcelain crowns today are simply much stronger. For many years, the PFM's have been the standard. The all porcelain materials have been considered inferior, but all that has changed in the last couple of years. Fuji Dental Lab currently offers IPS Empress e.Max which has a strength of 375-400 MPa and they have their Fuji Bruxer Crown which has a strength of around 1125 MPa. Compare this to the PFM strength of only 120-130 MPa. All of these products allow you to conventionally cement in (no bonding).
Patients often complain about "gray lines" seen at the gingival of PFM crowns. Two reasons for this are: 1) the light cannot pass through the metal in the crown, making them look "dead", and 2) it is difficult to have a good, thin margin with the PFM's because of the metal, opaque & porcelain. (See diagram below.)
If you really make it as thin as it needs to be, then you have a hard time getting a good shade unless you do a porcelain butt margin.
With metal free restorations you get a better marginal fit. No bulky margins and you get a straight emergence profile.
What's Changed?
A typical phone call to any dental lab from a Doctor who has an issue with his or her crowns fitting improperly will start with the Doctor asking "What's changed?" "What are you doing differently?" "Why are my crowns not fitting the way they used to?" and our initial response is "Nothing has changed (that we know of)." 95% of these types of calls revolve around PFM crowns, and there are many reasons why. Estep tells us "If any dental lab gives you a quick answer as to why a PFM crown isn't fitting properly...they are just trying to appease the Doctor. The truth of the matter is that the Doctor can call 10 different labs and get 15 different answers because nobody really knows with certainty why a particular PFM crown didn't fit."
According to Kip, here are just a few examples of what could affect a PFM crown:
-The water/powder ratio could determine if a crown will have a tight fit or a loose fit. If any of you have ever tried to bake a cake from scratch, you'll understand how important measuring ingredients and temperature is to the final product. Just wait until you try investing!
-A typical dental laboratory will have 7 different types of metals that they use. Each metal needs its own crucible. If the wrong crucible is used by mistake, you could have cross-contamination. Each metal will have a range of different casting and melting points, different oxygen levels for casting, they all have different cooling rates - some metals require fast cool, some slow cool, some require being quenched in water, etc.
-Metal finishing - another example of a cross-contamination is mixing the burs, stones and discs that you use for different metals. This could lead to bubbles and fractures.
-After grinding the coping, blast with non recycled 50 micron aluminum oxide, do not exceed a blast pressure of 4 bars or 60psi. Clean in distilled water in an ultrasonic cleaner for 10 minutes. Remove, dry, but Do not touch! (Oils from your skin can possibly contaminate the metals.)
-Opaque thickness is critical because if it's too thin or too thick, bonding may be compromised. If the opaque is too thick, the crown could be too opacious and if it's too thin you could see the bleed through of the metal which could create a gray discoloration.
-Excessive firing of porcelain could create bubbles and fractures
In these examples Fuji Dental Lab has just scratched the surface of the hundreds of "technique sensitive" variables involved in creating a PFM crown. "By going metal free with IPS Empress e.Max and Fuji Bruxer Crowns there are much fewer risks of crowns not fitting properly, they are stronger, more cost effective, faster turnaround time and overall better for your patients." says Kip.
With over 25 years in business, some of the services that Fuji Dental Lab provides to Doctors all over the U.S. are no rush fees, quicker turnaround times without sacrificing quality (3-5 business days), and their restorations are "Made in the USA!" And because Fuji Dental Lab is privately owned, that means that they will never get too big where the Doctor is just a number. All of this combined with their competitive pricing and a priority on customer service helped them build their good reputation in the dental laboratory industry.
Estep says, "Fuji Dental Lab takes pride in the quality of our work. Our goal is to create a high quality consistent product at a competitive fair price."
You may call Fuji Dental Lab anytime to discuss their services or ask for a New Dr. Info Kit at (800) 624-9412 or visit the Fuji Dental Lab website at:
www.fujidentallab.com