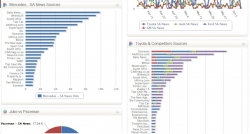 Johannesburg, South Africa, June 18, 2013 --(
PR.com
)-- "South Africa, in particular, requires a media monitoring company that can offer immediate access to two things, advertising and editorial. This monitoring has to extend across all media. It is with this vision in mind that DDI launched AdDesk and NewsDesk," says Tonya Khoury, MD of DDI Africa.
NewsDesk offers data from Print, Radio, Television, Social Media and Online News. This data is searchable and using interactive analytical dashboards, NewDesk allows the client to immediately assess the value and importance of the coverage received.
AdDesk allows the client, through interactive control panels, to see how their advertising is being executed and what the rest of their market is offering to consumers. This service extends across Print, Radio and Television and offers creative and spend data immediately.
In a fast changing market, monitoring media is now an art developed over many years and DDI is at the cutting edge of the newest media technologies. Consumer behaviour is also changing, being influenced by the availability of instant on-line information; the DDI algorithm takes every aspect of media monitoring into account offering marketers rapid feedback on the effectiveness of the media choices they are investing in. Using DDI's dashboard solutions, all the latest data is delivered via a single interface.
"The DDI platform is acknowledged to be the fastest and most comprehensive service for
media monitoring in Africa
and building on DDI's extensive experience, it is set to be a world beater in the media monitoring market place," says Khoury.
DDI has partnered with UK/US based Moreover Technologies, a market-leading news and social media aggregation and intelligence service, with service offerings (called White Label) in over 100 countries. Simon Gaunt, Sales Manager for Moreover UK says, "Across the globe, DDI is our fastest selling White Label to date."
DDI Africa offers a full monitoring service across all editorial mediums. This means that clients can access editorial coverage across print, radio, television, social media and online in near real time, consisting of:
* 6.2 million social networks (Global)
* 60 000 online newspapers (Global)
* 2000 printed publications (South African)
* 33 radio stations (South African)
* 27 television stations (South African)
DDI is the only company in Africa to offer social media, online news, print, radio and TV in one service offering.
About DDI Africa
Data Driven Insight (DDI) is a media monitoring company that offers intelligence and data across all forms of media. DDI offers this data in user-friendly, very sexy dashboards that the end user can interact and amend on the fly! The data from news and advertising is delivered as it happens giving creative, spend and editorial content immediately. This is an African first!