Jefferson Salt to Host Interim Management Exploration Sessions in Their Virtual Office on the Depo Business Park Resident in Second Life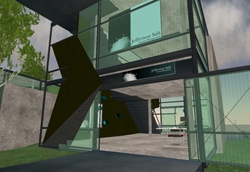 Milton Keynes, United Kingdom, August 23, 2007 --(
PR.com
)-- Interim management specialist, Jefferson Salt, is to host an open session to provide potential clients and candidates with an overview of the benefits and challenges of interim management. The event will take place at their Second Life offices on the depo business park, on Friday 24th August.
Dominic Ryalls, Jefferson Salt Managing Director, says: "Second Life is an ideal environment for business networking, enabling people to make direct contact without the inconvenience of travel and the expenditure of disproportionate time."
Says Lesley Williams of depo, "We see Second life as a great environment for business networking as well as an ideal first contact point for recruitment. People can readily gain an understanding of one another and understand whether there is potential for a good fit without entering into formal discussion, or the formal recruitment process, saving everyone time and effort.
We really welcome this initiative and expect to see many such events taking place on the business park in the near future."
###
Notes to Editors:
About depo consulting ltd
Founded in 2001, depo consulting is a consultancy based in Northamptonshire, near Milton Keynes, that focuses on the commercialisation of websites and the use of the Internet to drive revenues and profitability. They are a full service developer in Second Life. Full service developers are those capable of providing end-to-end management of large and complex projects within Second Life, such as building an entire island. depo have already completed several such projects, including delivery of European law firm Field Fisher Waterhouse's in-world office facility. They now have staff in UK, Europe, the USA, South America and Asia.
www.depoconsulting.com
Contact information:
Lesley Williams
depo consulting ltd
lesleywilliams@depoconsulting.com
+44 1295 720941
Contact
depo consulting ltd
Peter Dunkley
+44 7713 795563
www.depoconsulting.com
Switchboard = +44 (0) 845 003 1351

Contact