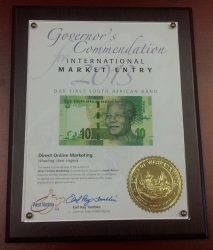 Charleston, WV, June 08, 2013 --(
PR.com
)-- Direct Online Marketing was awarded the Governor's Commendation for International Market Entry award for 2012. During the ceremony, West Virginia Governor Earl Ray Tomblin presented the agency with a plaque recognizing the export of its services to South African clients.
Continued Export Growth
Direct Online Marketing is proud to be part of West Virginia's legacy in increasing its exporting. "In 2012, our state's exports reached a record high of $11.3 billion," Governor Tomblin said.
According to Don Gallion, President of the West Virginia Export Council, 2012 marked the third straight year that West Virginia increased exports, growing by 25%, compared to the national growth rate of 4.6%.
Twitter Advertising
This year's ceremony at The Culture Center in the State Capitol Complex marked Direct Online Marketing's second participating year. The company picked up an award for entering into South Africa, primarily through offering promoted Twitter products to South African advertising agencies and businesses.
"Clients both domestically and internationally began expressing interest in
Twitter advertising
in 2012. We began offering promoted Twitter products to South Africa that year as local companies are not able to open contracts with Twitter on their own," according to Direct Online Marketing President, Justin Seibert. "With the major changes to targeting and access Twitter has rolled out this year, we're receiving even more interest from advertisers in the U.S. and abroad," he added.
About Direct Online Marketing
Direct Online Marketing is an internet marketing agency offering search engine marketing, social media, banner advertising, and online reputation management. The Google AdWords Certified Partner works with clients across the globe. Learn more by calling 800.979.3177 or visiting
www.directom.com
.