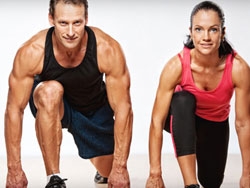 London, United Kingdom, June 11, 2013 --(
PR.com
)-- In an Industry characterised with quick fixes, gimmicks and fashion trends, the weight loss Industry is no stranger to fads. Yet one particular area of this multi-billion pound market is demonstrating strong and resilient growth, according to the Daily Mail. In a recent survey of readers, personal training came top in their poll of readers' most sought-after weight loss methods.
According to
MotivatePT
the largest personal training provider in the UK, the popularity of personal training is at an all time high. Richard Dyer, Operations Manager at MotivatePT comments, "Whilst we certainly train many well-known celebrities, the composition of our client base has changed a lot over the past few years as personal training has become more widespread. We are seeing more and more people from all walks of life that are looking to work with a personal trainer to get in shape. I think the appeal of in-home personal training for our busy customers, is that they can exercise with their fitness trainer in their own living room, meaning they can save money on gym memberships and unwanted travel. In fact many of our customers choose to have their sessions now with friends or family at home or in the park as a way of splitting the cost. We're seeing lots of families from all areas of the UK signing up for personal training having ditched their expensive family health club memberships."
The popularity of Personal Training has grown rapidly over the last ten years making it now the highest growth sector in the fitness Industry. Todd Anderson, Regional Personal Training Manager at MotivatePT explains, "The importance of exercise is well-known in facilitating weight loss and helping individuals to maintain a healthy BMI. But there is no escaping the fact that most people find it a struggle to motivate themselves to exercise regularly. As a result many people fail to achieve their fitness goals when exercising on their own. They often end up performing the wrong exercises or simply not working out consistently enough. Our personal trainers provide not only the knowledge needed to achieve weight loss goals, but just as importantly, they provide that all important motivation and support required to help customers to maintain a consistent exercise regime. Most individuals can expect to see up to 5 times better results from exercising with a personal trainer compared to exercising alone."
Sally Webb, one customer from London, lost a staggering 16 stone through personal training with MotivatePT and achieved this without any radical diets, "I have always disliked diets and could never stick to them. I have however always enjoyed exercise, but due to my size, I felt embarrassed going to an exercise class or gym - so this was just not an option for me. I felt inspired one day watching a weight loss reality show where they all had one-to-one sessions with personal trainers. I thought that this was something I could really do. I arranged a home visit with a personal trainer from MotivatePT and have never looked back. One year later I am down to a dress size 10 and now regularly go jogging, cycling and swimming. It's changed my whole life."
About MotivatePT
Winning accolades in The Guardian, The Times and Cosmopolitan Magazine, MotivatePT have built a devoted and loyal clientele through their delivery of individualised, results-based fitness programs. From working with Olympic athletes to helping busy executives to shed extra pounds, MotivatePT are available for private and small group personal training sessions nationally throughout the UK as well as globally through their online personal training and weight loss programs.