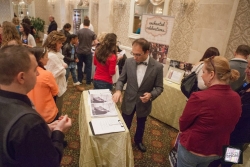 Manahawkin, NJ, June 13, 2013 --(
PR.com
)-- Rock the Aisle Bridal is so excited to kick off the fall bridal season with 10 bridal shows. The upcoming shows will be announced July 8th. Starting September 8th, 2013, Rock the Aisle Bridal will showcase 10 bridal shows in 2 states and 9 counties.
Each bride will have an enjoyable experience so they are sure to be rocking their way down the aisle in style after seeing the latest fashion trends. Rock the Aisle Bridal will showcase a fashion show at each bridal shows. There will be 30 featured dresses.
With more than 200 exhibitors, brides are guaranteed to find something they love. Brides can expect a variety of vendors to make the planning experience fun and exciting. From flower vendors, to invitations and cakes, Rock the Aisle Bridal will show the latest trends.
There will also be an exciting Door Prise every 7 minutes, with more than 280 door prizes. Register now and be the first to hear about their exciting locations. They cannot wait to meet you at one of the shows.
About Rock the Aisle Bridal
Rock the Aisle Bridal was formed in 2010 by wedding entrepreneur Alex Karas. Rock the Aisle Bridal is a niche advertising agency that specializes in researched-based bridal prospecting for medium to enterprise sized businesses.
We understand that in today's crowded media marketplace, making good advertising decisions can be tough. We are proud to produce twenty four well attended bridal shows across two states annually and create high quality marketing collateral for top tier reception venues.
To find out more information, please visit: www.rocktheaislebridal.com. To contact Erin Robbins, Operations Manager please call 866.306.3592 or email her at operations@rocktheaislebridal.com.
Rock the Aisle Bridal
Manahawkin, NJ
866.306.3592
Contact:
Erin Robbins
Operations Manager
866.306.3592