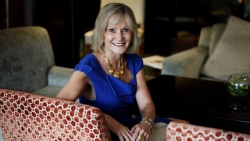 New York, NY, June 13, 2013 --(
PR.com
)-- Koplovitz & Company today announced Kay Koplovitz has been selected by British Airways and its partners to participate in Ungrounded, the company's inaugural Innovation Lab in the Sky. The group will work on global challenges at 30,000 feet, aboard a private British Airways flight from San Francisco arriving in London on June 13, 2013. Kay Koplovitz will join more than 100 industry leaders and change agents, to collaboratively address the global STEM skills gap with the goal of accelerating global innovation.
Participants were nominated by global technology leaders in both Silicon Valley and London, with primary input from the UnGrounded advisory board. The advisory board is made up of senior representation from RocketSpace, Silicon Valley Bank, Andreessen Horowitz, Stanford University and Innovation Endeavors. All participants have been hand-selected to participate based on their experience and passion for driving the acceleration of innovation within developed and emerging communities across the world.
Kay Koplovitz remarked, "It is a privilege to participate in the Innovation Lab in the Sky. I am working on the Altitude team to devise ways to accelerate women into STEM careers, a passion of mine in entrepreneurial and corporate tracks. Women bring a different perspective to innovation and priorities for problems to solve."
"At Springboard Enterprises we work with women entrepreneurs, primarily in technology and life science fields to accelerate growth, raise capital and create jobs and wealth. I look forward to bringing great ideas from the lab to life."
Upon landing, the ideas and solutions created on the flight will be received by the United Nations ITU Secretary General at the DNA Summit, in association with the G8 Innovation Conference, in London.
"As we're approaching the launch of UnGrounded on June 12, we're excited to see the top visionaries and leaders from Silicon Valley bring their distinct perspectives and skills together to tackle the critical global challenge around the STEM skills gap," said Simon Talling-Smith, EVP of the Americas for British Airways. "Face-to-face connection ignites the exchange of amazing ideas, and by bringing these bright minds together, British Airways and our partners, the United Nations and DNA Summit, look to spark and accelerate innovation to affect global change."
Ms. Koplovitz is Founder of USA Network and The Sci-Fi (Syfy) Channel, author of the book "Bold Women, Big Ideas", Co-founder of Springboard Enterprises,
www.springboardenterprises.org
and Founder and CEO of Koplovitz & Company
www.koplovitz.com
If you'd like more information about this topic, or to schedule an interview with Kay Koplovitz, please call Mayra Kalisch @212-332-4401 or email Mayra@koplovitz.com
For more information about The Ungrounded Flight, visit www.ungroundedthinking.com, like us on Facebook, or follow us @British­Airways and join the #BAInnovate conversation.
Contact:
Text100 for British Airways
Email: BAungrounded@text100.com
Phone: 212-252-1639