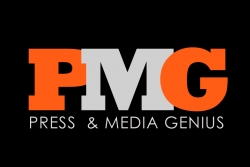 Chicago, IL, June 19, 2013 --(
PR.com
)-- Press & Media Genius is a prototypical body of work created by what PMG executives are calling a, "Turn-Key Solution for Media Coverage."
PMG's Founder has literally built her entire executive career on building "Mass Media Communication Solutions," for small businesses, non-profits, start-ups, crisis management, and government officials.
A high energy, fiscally conscious, and goal-driven mass media mogul, PMG's founder approaches each new business challenge with her intrinsic flair for innovation, creative problem solving, and measured risk-taking to drive consistent bottom-line improvements and shareholder returns.
Cutting the Cost for Public & Media Relations by 73%
Having earned the interest of over 300,000 professionals in mass media, PMG's team newest platform has proven worthy- in just few months of opening the company landed several major event(s) such as Hank Stewart's Foundation 12th year anniversary "White Linen Affair," "Diamond Invitational Football Classic," Hollywood GO 2 STUDIOS "Inside the Film Industry Summit," and NFL Pro Ball Player Eddie Drummond "The Next Top Athlete," and a host of affluent running politicians are being added to PMG's client list.
PMG's signature cost effective service plan does not lock their clients into monthly retainers and obligations. Rested in Chicago's brownstone community PMG's team is working diligently to build relations, partnerships, and applications to better serve PMG's clients.