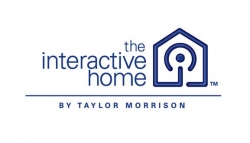 Houston, TX, June 21, 2013 --(
PR.com
)-- Taylor Morrison has given Houston home buyers another reason to consider the home builder's innovative Interactive Home™ concept - free upgrades to the area's industry leading connected home system.
From June 15 to July 31, home buyers who choose a Taylor Morrison built-to-order home with the home builder's Interactive Home™ system will also receive four free upgrades - a staycation family movie night package including surround sound speaker system, a smart device charging station, a whole home wireless system and exterior coach light switches with vacation mode that can be controlled by the Interactive Home™ system.
"You could say the smartest home on the block just got smarter," said Jim Ellison, vice president of sales and marketing for Taylor Morrison Houston. "With the addition of these free upgrades, homeowners will be able to charge their smart devices with a simple electrical outlet and upgrade to exterior coach lights. And all of it is controlled by any smart device."
The staycation family movie night package offers Houston home buyers a theatrical experience worthy of a summer blockbuster and includes in-ceiling speakers and a powered subwoofer to enhance any home theater experience.
And charging smart devices is much easier with the upgraded charging station, which charges up to three smart devices at the same time while helping to reduce clutter.
The whole home wireless system offers Houston home buyers a wifi boost, perfect for online streaming of movies and music, giving the whole family the ability to use their connected smart devices anywhere in their home.
"With an Internet connection built in to just about every appliance these days, wifi networks can become increasingly slower as more devices are used," Ellison said. "Our whole home wireless system gives your wifi a boost, allowing you to stream your favorite movie easier."
With the free coach light switch upgrade, homeowners can remotely turn their exterior lighting on and off while they are away from their home and also program their lights to turn on at dusk and off at dawn - an added safety measure for any Houston family.
"The vacation mode gives your home that 'lived in' appearance even when you're away on vacation, making it difficult for thieves to identify when home owners are away on vacation or business," Ellison said. "It's a feature that homeowners immediately love once they see it in action."
For more information on the Interactive Home™ upgrades, please contact Sarah and Teresa, Internet Home Consultants, at (281) 780-4652 or sarahandteresa@taylormorrison.com. For more information on Taylor Morrison, please visit www.taylormorrison.com.
About Taylor Morrison
Headquartered in Scottsdale, Arizona, Taylor Morrison Home Corporation operates in the U.S. under the Taylor Morrison and Darling Homes brands and in Canada under the Monarch brand. Taylor Morrison is a builder and developer of single-family detached and attached homes serving a wide array of customers including first-time, move-up, luxury and active adult customers. Taylor Morrison divisions operate in Arizona, California, Colorado, Florida and Texas. Darling Homes serves move-up and luxury homebuyers in Texas. Monarch, Canada's oldest homebuilder builds homes for first-time and move-up buyers in Toronto and Ottawa as well as high rise condominiums in Toronto. For more information about Taylor Morrison, Darling Homes or Monarch, please visit www.taylormorrison.com, www.darlinghomes.com and www.monarchgroup.net.