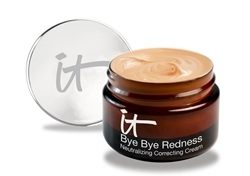 New York, NY, June 26, 2013 --(
PR.com
)-- Innovative Technology Cosmetics (IT Cosmetics), a leader in the color cosmetics market, was recognized with the prestigious 2013 Cosmetic Innovator of The Year Award in "Package Design Innovation" in the skincare face category for one of its newest problem-solving products, Bye Bye Redness™ Neutralizing Correcting Cream.
The Independent Cosmetics Manufacturers and Distributors (ICMAD) Cosmetic Innovator of The Year (CITY) Awards has been a gold standard in the cosmetics industry for years. The winning brands of ICMAD's 2013 Cosmetic Innovator of The Year Awards represent the current best new breakout products, packaging, and advertising campaigns in the industry. From cosmetics to package design, body care to social media, each new innovation stood out above the rest this year. Winners were selected by five renowned judges and experts from the beauty, design, and marketing industries. President of L'Oréal Luxury Products Division and beauty industry leader, Carol Hamilton delivered the keynote address.
"To be acknowledged by our peers is such a huge honor," says Jamie Kern Lima, Founder and CEO of IT Cosmetics. "Bye Bye Redness is a product I am so passionate about, and am extremely proud of because it's truly making a difference in so many women' lives, and to have it acknowledged at such a coveted event is such a true honor."
IT Cosmetics works with leading plastic surgeons to infuse cutting edge anti-aging technology into truly innovative, high performance cosmetics. A favorite among celebrities and influencers alike, IT Cosmetics Bye Bye Redness™ Neutralizing Correcting Cream formula completely erases red-toned skin discolorations from rosacea, broken capillaries, blemished or irritated skin, and more. The truly innovative formula suspends redness-cancelling pigments, into a nude-tone correcting crème that also soothes sensitive skin. The innovative package design utilizes sleek lines, and a custom designed tray which holds both the crème and custom-cut airbrush buffing brush for application.
About ICMAD CITY Awards:
ICMAD, the Independent Cosmetic Manufacturers and Distributors, created the coveted "Cosmetic Innovator of the Year" prize nine years ago to recognize companies who are creating revolutionary new skin, makeup, hair, and fragrance products and put them on even ground to compete with large multinationals. The CITY Awards "Cosmetic Innovator of The Year" honors standout global products that have advanced their categories and gives them a prestigious platform to launch to wider acclaim.
About ICMAD
The Independent Cosmetics Manufacturers and Distributors (ICMAD) is about members - its member companies represent the diversity that makes the cosmetics industry so dynamic. ICMAD is proud of the accomplishments of its members and is committed to providing the widest range of the most useful services to help our members grow and succeed in this vibrant cosmetics industry.
About IT Cosmetics
IT, which stands for Innovative Technology, is all about High Performance, Skin Loving, Problem Solutions! Founder Jamie Kern, who suffers from Rosacea, Sparse Brows, Hyperpigmentation and problematic-skin works hand-in-hand with a team of plastic surgeons to create innovative, high performance products laser focused on solving women's beauty problems.