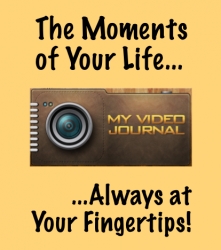 Dickinson, TX, July 02, 2013 --(
PR.com
)-- House of File, a mobile developer focused on a wide variety of applications, has today announced the recent release of My Video Journal for your Windows 8 Tablet. My Video Journal is a dynamic app that gives users the power to create either video or audio dairies for personal use straight through their tablet with ease.
My Video Journalis the only app in the Windows Store specifically designed to enable users to record and save video diary entries, along with any other forms of media at your disposal. Simply put, it's is the perfect resource to capture personal thoughts, family moments, friends' events, business logs, and more, safely and securely. My Video Journal is currently available for download in The Windows Store for Free in the Lifestyle category. The free version is a trial version that allows you to use the app to see if you like it before purchasing.
Keeping a diary is an integral part of many people's lives. It offers a firm record of daily events, special times, and now with My Video Journal, a fully immersive catalog of important captured moments. Using the app, users can create photos, text, audio, and videos freely to mark any event they'd like.
As with any app offering users the chance to record personal events as easily as this app can, security isn't simply a feature, it's a must have. Recognizing this, My Video Journal is protected via password security that ensures you, and only you, will have access to your accumulated Journal entries. Whether you decide to track your college life, create a photo diary of grand children growing up, or simply collect ideas you might have, My Video Journal guarantees that you'll spend your energy making memories rather than worrying about how you'll record them.
My Video Journal also utilizes SkyDrive technology to securely back up your memories and allows you to sync them with your other devices, so your Journal entries are always at your fingertips. In addition, the Windows 8 Phone version is scheduled for a July release.