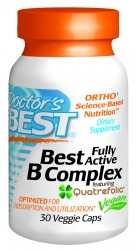 San Clemente, CA, July 03, 2013 --(
PR.com
)-- Doctor's Best has introduced Best Fully Active B Complex into its dietary supplement line. Scott Steinford, president of Doctor's Best, made the announcement. This product is available in 30 vegetarian capsules, providing meaningful amounts of the B vitamins plus vitamin C in each capsule.
Best Fully Active B Complex contains only ORTHO nutrients, which are molecularly identical to the body's chemistry. According to Nobel Prize winner Linus Pauling, orthodox molecules better support human health.* The formulation supplies only the best-utilized B vitamin forms, or vitamers, substituting naturally fully active folate (as Quatrefolic® methyl-tetra-hydro-folate, or MTHF) for synthetic folic acid, and a generous amount of fully active B12 (as methylcobalamin).
The B vitamins act as part of coenzymes, which are small molecules that combine with enzymes to make them active. Through this activity, the B vitamins thiamin, riboflavin, niacin, pantothenic acid, and biotin help in orchestrating the release of energy from carbohydrates, fats, and amino acids. B6 is involved in amino acid metabolism and many other functions. Folate and B12 help in cell multiplication, which is especially important in cells that need to be rapidly replaced, like red blood cells and those that line the intestinal tract.*
Founded in 1990 by supplement industry veteran Ken Halvorsrude, San Clemente-based Doctor's Best, Inc., manufactures and distributes dietary supplements throughout the U.S. and internationally. Doctor's Best is known for a broad line of premium products that are scientifically based on sound research and manufactured utilizing proven quality ingredients. For more information, please contact Doctor's Best at (800) 333-6977.
* These statements have not been evaluated by the Food and Drug Administration. This product is not intended to diagnose, treat, cure, or prevent any disease.