XPRTS Tablet App: B2B Content Marketing Initiative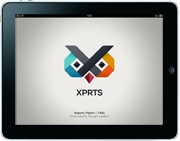 Amsterdam, Netherlands, July 15, 2013 --(
PR.com
)-- Today
XPRTS Media
launched its B2B Tablet Magazine in Apple's App Store. XPRTS shares in-depth knowledge on trending IT and Business topics from Industry Thought Leaders. The XPRTS App can be personalized to the readers' own areas of expertise to access the knowledge base in a relevant and magazine-style way. Topics in the starting edition include Social Business, Big Data, Mobility, Digital Marketing and Cloud Computing. XPRTS can be downloaded
here
.
The knowledge in the magazine originates from recognized Thought Leaders like IBM, Adobe, HP, MicroStrategy, Capgemini and EMC. Their content can be enriched with expert profiles, upcoming events and relevant Twitter feeds. US based Madison Logic and European based Heliview Online are the main content partners of the magazine. The magazine offers news on reports and studies from research firms based on social media. The social business network exploreB2B delivers expert articles by topic.
XPRTS is a B2B Content Marketing initiative aimed at the comeback of "lean back media." With the emergence of Internet, users got behind their PC's and started to lean forward to consume content. Tablets however invite readers to consume content in a lean back position, asking for a magazine-like content experience. XPRTS brings B2B Content Marketing to the tablet from this user perspective.
XPRTS Magazine is aimed at an international audience and launched by an international team. Content partner Madison Logic is an American company, Heliview Online is European, blog partner exploreB2B is located in Germany and the editorial team is based in Portugal. The company XPRTS Media BV itself is based in The Netherlands.
Contact
XPRTS
Bob Oord
+31(0)625060940
www.xprts.com

Contact