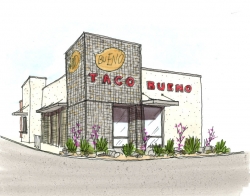 Dallas, TX, July 17, 2013 --(
PR.com
)-- Taco Bueno® is excited to announce that the company is expanding to Prosper, Texas, with the groundbreaking of its 178th restaurant during the week of its 46th birthday. Located at 4385 E. University, the official groundbreaking ceremony will take place on July 18 at 9:00 AM with representatives of the Prosper, Texas community. The store is slated to open for business in early October.
"Based on the success of other Taco Bueno restaurants in the area along with the vibrant growth within Collin and Denton counties, we felt that this Prosper location represents a tremendous opportunity for Taco Bueno," said Mike Roper, Chief Technology and Development Officer. "We are extremely excited to become part of the neighborhood for years to come."
The 2,850 square-foot building will be designed to seat 72 diners and will boast a double drive-thru to serve customers on-the-go quickly. The restaurant will be built with the new Modern Pueblo design created in partnership with Plan B Group, Inc. This will be the first new store to utilize the new look, although several recently-remodeled stores have already implemented the design. The primary design feature is the use of a Gabion wall system, which is a simple wire mesh and rock retaining wall that has been used for centuries. The Gabion walls provide a fresh modern look to act as a new brand icon that will be used going forward. This dining experience will mirror the commitment to a high quality and extraordinary service experience found in other Taco Bueno restaurants.
"The opening of Taco Bueno in Prosper marks a new day in terms of finally showcasing these unifying design elements," commented Royce Ring, Principal, Plan B Group, Inc. "After literally months of collaboration on sketches, drawings, and design development, we have created a way for Taco Bueno to be comfortable in its own skin while signaling quality through the timeless lines and materials that make up the exterior design."
The Prosper restaurant opening will add at least thirty jobs to the local community. The company is also proudly supporting local businesses including Parkway Construction, Mesquite Plumbing, and Town East Heating and Air Conditioning for the construction and design needs of our newest restaurant.
Taco Bueno is a Tex-Mex quick-service restaurant that promises to provide quality food made with passion from scratch using fresh ingredients in every restaurant.
Founded in Abilene, Texas, Taco Bueno operates 178 restaurants in Texas, Oklahoma, Arkansas, New Mexico, Louisiana, Kansas and Missouri. Taco Bueno is committed to the freshest, highest quality ingredients and a unique, authentic Mexican food experience. The company is privately owned by Palladium Equity Partners. Find out more about Taco Bueno by logging on to www.tacobueno.com or www.facebook.com/buenoheadquarters.
Dallas-based architecture and design firm Plan B Group, Inc. specializes in hospitality design. Find out more about Plan B Group, Inc. by logging on to www.planbgroup.net