Healthy Directions & Dr. Sinatra Launch Post-M Support™ for Women, a Post-Menopause Supplement
Healthy Directions, a leading source of natural health advice and doctor-formulated nutritional products, announces the launch of Post-M Support™ for Women, a supplement that addresses the health concerns women face following menopause.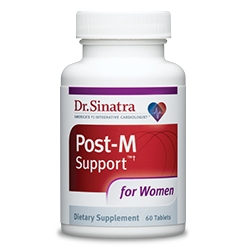 Potomac, MD, August 02, 2013 --(
PR.com
)--
Healthy Directions, LLC
, today announced the launch of
Post-M Support™ for Women
, a post-menopause supplement formulated by Stephen Sinatra, MD, that safely and naturally targets the many health issues women face when they reach this stage of their lives, including those related to bone and heart health, as well as stress and anxiety and overall hormone balance.
Post-M Support™ for Women contains research dosages of Bonolive™, a patented olive extract clinically shown to provide significant positive effects on bone producing cells, bone mineral density, and blood lipids; LinumLife®, a unique flaxseed extract that helps balance hormone levels; and Sensoril®, a patented standardized extract of ashwagandha that primarily reduces cortisol to help relieve stress and anxiety and promote energy, vitality, and stamina. This proprietary formula also includes red clover extract, which has been used traditionally to address menopausal symptoms, and vitamins D3 and K2, calcium and boron, for additional bone and cardiovascular support.
"Once a woman reaches post-menopause, her hormone levels fluctuate and her estrogen levels decline significantly," says Dr. Stephen Sinatra, an integrative cardiologist and nutritionist. "As a result, her risk of health problems increases, particularly those associated with the heart and bones. But even with higher risks, women can reduce their vulnerability with a combination of diet, exercise, vitamins, and other supplements."
Post-M Support™ for Women is also formulated to complement Dr. Sinatra's existing Heart Healthy Multivitamin for Women, which is the first women's vitamin that he and Healthy Directions developed together.
"I'm pleased that Dr. Sinatra and Healthy Directions were able to work together to formulate another women's supplement that provides them with the complete support they need to stay healthy and strong throughout their post-menopausal years and beyond," says Healthy Directions CEO Connie Hallquist.
Post-M Support™ for Women is available at drsinatra.com/ and healthydirections.com/.
About Healthy Directions
Healthy Directions, LLC, a leading health publisher and direct-to-consumer retailer of doctor-formulated nutritional supplements and skincare products, is dedicated to helping people lead healthier, happier lives. Healthy Directions provides expert guidance and advanced nutritional supplements from America's most knowledgeable and highly respected integrative and alternative health doctors including Julian Whitaker, MD, Dr. David Williams, Stephen Sinatra, MD, Susan Lark, MD, Aaron Tabor, MD, Richard Wurtman, MD, and Joseph Pergolizzi, Jr., MD.
Contact
Healthy Directions
Marcie Baetcke
301.340.7788 1204
www.healthydirections.com

Contact