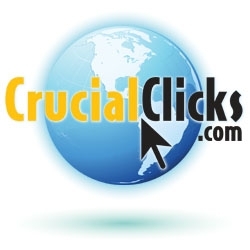 Coral Springs, FL, August 05, 2013 --(
PR.com
)-- CrucialClicks.com is excited to announce that they have been selected as a 2013 Google Engage All-Star. Google Engage, a program that helps to enhance companies that offer Search Engine Optimization, Search Engine Marketing, website development, and online advertising, selected very few All-Stars out of approximately 14,000 companies.
In order to be selected, a company was required to achieve certain benchmark goals for the year. This included: meeting specific pay-per-click goals, helping businesses grow through Google advertising, and helping new businesses develop through SEM.
CrucialClicks.com was able to secure a winning spot in the Engage All-Star competition by outperforming many of the competitors in critical areas of pay-per-click campaign management, which evaluates overall performance. This was accomplished by providing quality and cost-effective pay-per-click campaigns as opposed to some of the more aggressive and less quality driven approaches performed by others.
Izzat A. Dajani, Director of Marketing/Partner for CrucialClicks.com, said "It is not only an honor to be selected by Google, but also an incredible opportunity to reinforce our products and services through all of the programs that Google Engage has to offer."
In addition to receiving two custom 2013 Google Engage All-Star jackets, All All-Stars are invited to spend the day at the Googleplex for the 2013 Google Engage All-Stars Summit on August 12, 2013. At the summit, Google will offer training sessions, market trend insight discussions, and workshops with Google Managers. "It is a unique opportunity to attend workshops about maximizing SEM/SEO led by the Managers of the Search Engine you are trying to Optimize for," said Dajani.
CrucialClicks.com would like to thank Google for selecting them to be an All-Star and for substantiating their ability to provide the best Internet marketing for businesses.
About CrucialClicks.com
CrucialClicks.com, located at 11764 West Sample Road, Suite 104, Coral Springs, FL 33065, is a leading provider of: Website Design & Development, Effective Search Engine Optimization (SEO), Pay Par Click Marketing, a Reputation & Identity Management Platform – Reputation Repo™, Call tracking Phone Numbers, Google Analytics, Mobile Site™, Local Search, and Online Media with the your business being at the core, implementing a design to increase targeted traffic to your website.