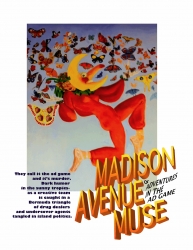 Corvallis, OR, August 17, 2013 --(
PR.com
)-- "Truth in advertising is an oxymoron. Here's another truth: If you love 'Mad Men,' you'll love 'Madison Avenue Muse or Adventures In The Ad Game.'" - Jerry Prueitt creative director Jordan, Case, McGrath & Taylor Advertising
The Coast Guard boards a drug cartel ship. The explosion is seen miles away on tranquil island beaches. The Coast Guard - and the cartel send their agents to investigate what happened to a half billion dollars worth of drugs. Meanwhile the island regime is trying to stick the agencies director with murder and a drug rap and rip off the drug cartel.
The ad agency has to prove to the DEA, FBI, CIA, and State Department but most importantly - tourists - that their clients image, soul, and beaches are pure. And keep the SOBs from taking their account to another agency.
The agency sends Cinque to the island. He's a cool black creative director and an ex captain in the green berets - a job that just barley prepares him for advertising.
As the islanders are about to come to an agreement - the body of an FBI agent is found in Cinque's room. All just another normal agency day.