Sanspress Announces a Great New Summer Read, to Quote Tolstoy: "The Ad Game, it's Like - if Carl Hiaasen and Elmore Leonard Were Swapping Stories About the Ad World."
They call it the ad game but it's really murder. An ad agency's creative team is mistakenly caught up in a drug cartel scam. From the halls of Madison avenue to the Bermuda triangle. From a double cross in Mexico, to betrayal in Japan, to a sell out in New York - more than ads are being killed. Just go to Kindle ebook, B&N Nook, or iBooks and type in The Ad Game ISBN number 9781626758896.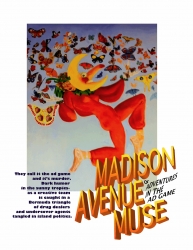 Corvallis, OR, August 17, 2013 --(
PR.com
)-- "Truth in advertising is an oxymoron. Here's another truth: If you love 'Mad Men,' you'll love 'Madison Avenue Muse or Adventures In The Ad Game.'" - Jerry Prueitt creative director Jordan, Case, McGrath & Taylor Advertising
The Coast Guard boards a drug cartel ship. The explosion is seen miles away on tranquil island beaches. The Coast Guard - and the cartel send their agents to investigate what happened to a half billion dollars worth of drugs. Meanwhile the island regime is trying to stick the agencies director with murder and a drug rap and rip off the drug cartel.
The ad agency has to prove to the DEA, FBI, CIA, and State Department but most importantly - tourists - that their clients image, soul, and beaches are pure. And keep the SOBs from taking their account to another agency.
The agency sends Cinque to the island. He's a cool black creative director and an ex captain in the green berets - a job that just barley prepares him for advertising.
As the islanders are about to come to an agreement - the body of an FBI agent is found in Cinque's room. All just another normal agency day.
Contact
sanspress
Gerald Prueitt
541-207-3314

Contact