Entrepreneurial College Student Makes Thrift Shopping Easy & Available to the Masses with a Curated Online Thrift Store
College student, Shawn Beach, launches Dope Junkyard, a revolutionary shopping experience that offers people a convenient way to purchase stylish & good-quality thrift merchandise. Dope Junkyard features a curated selection of used and vintage apparel, accessories, & home décor, along with an eclectic collection of new merchandise specially made & sourced from different parts of the world.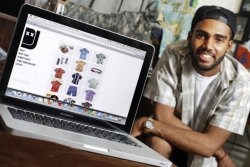 Los Angeles, CA, August 14, 2013 --(
PR.com
)-- At an early age, Shawn Beach noticed a void in the retail market that made it hard for him and other people who resided in non-Metropolitan areas to acquire unique, one-of-a-kind clothes. "My style has always been weird. A lot of it was inspired by the really cool west coast clothing style from Saved By the Bell with a mix of the weird patterns that Will wore on Fresh Prince. But I come from a single-mom household so money was always tight. That's why I like mixing old & new stuff together. But there weren't enough weird stores available for people like me who don't like wearing things everybody else does," says Beach. Dope Junkyard fills that void by only offering truly eclectic & unique merchandise. And because they are an online platform with curated selections, shoppers won't have to visit multiple stores. They don't have to rummage through piles & racks of items either. They can easily find new & used clothes, accessories, & home décor suited for both men and women in the comfort of their own home. "Used stuff can be just as dope as new stuff. More people would be open to buying them if the shopping experience was just easier," says Beach.
The decision to launch Dope Junkyard was born out of a realization inspired by the young & energetic fashion entrepreneurs of the show, How To Make It In America. "After watching a few episodes of that show, I realized what I really wanted to do. I always loved fashion & people compliment me and know me for it. I woke up with a name and one idea lead to more ideas until finally, Dope Junkyard was born," says Beach. Eventually, the young student & entrepreneur wants to open a brick & mortar store in Los Angeles. However, he has decided to postpone that until after he gains more knowledge & traction. "Opening a boutique in LA is my dream. But I figured I should first start small & continue to grow every day with knowledge and even more experience. I think an online shop is the best way to do that because I was able to launch quickly with very little start up cost & overhead expenses," says Beach. This "start small, expand later" strategy proves to be working well for the young fashion entrepreneur, especially since he has a profitable businesses before even graduating from college.
Although Dope Junkyard just launched in (November, 2012), it is quickly growing as a recognized online retailer for thrift & new merchandise. Shawn Beach plans to launch pop-up shops in the Los Angeles area within the next year, as well as adding furniture and artwork into his inventory mix online later in the Fall of 2013. Dope Junkyard will release further news and updates about these initiatives through:
Site: www.dopejunkyard .com
Twitter: www.twitter.com/dopejunkyard
Blog: http://dopejunkyard.tumblr.com
Facebook: www.facebook.com/dopejunkyard
You can shop Dope Junkyard's entire collection at www.dopejunkyard.com. To contact Shawn Beach for interviews & buying inquiries, please contact dopejunkyard@gmail.com
Contact
Dope Junkyard
Shawn Beach
803-463-4994
www.dopejunkyard.com

Contact