Acclaimed Music Together® Classes to be Offered in San Rafael and Novato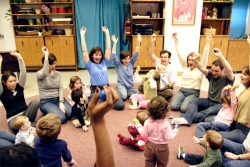 San Rafael, CA, August 15, 2013 --(
PR.com
)-- Sing-Dance-Play Music Together® will begin classes this fall in new locations in Novato and San Rafael, announced Sing-Dance-Play director Elina Coulter. The next ten-week semester of classes starts the week of September 9 at Marinwood Community Center in San Rafael, and Hamilton Community Center and Love2Dance in Novato. To register for classes, please visit www.sing-dance-play.com.
According to Elina Coulter, "I am delighted to offer classes in San Rafael and Novato. Music Together is a wonderful, much-loved program that has benefited so many families. As a new director and new resident of San Rafael, I am excited and grateful for the opportunity to reach more families in my own community."
"All children can learn to sing in tune, keep a beat, and participate with confidence in the music of our culture, provided that their early environment supports such learning. Music Together brings families together by providing a rich musical environment in the classroom and facilitating family participation in spontaneous musical activity at home within the context of daily life. Families get so much out of these classes," Elina Coulter explains.
As a credentialed teacher, mom, and multi-instrumentalist, Coulter is well-qualified as an early childhood music educator. She is trained in both Music Together and Orff methods of teaching music to children. She opened Sing-Dance-Play in January 2013. One family reports that the class is "fun and fabulous, a great stress reliever and opportunity to be 'in the moment' with our daughter." Another reports, "We see on a daily basis how much our twins get out of this class. Elina delivers such an enjoyable experience, not just for the children, but for the parents as well. Thank you for such an engaging, entertaining and informative class."
Celebrating its 25th Anniversary, Music Together is an internationally recognized early childhood music and movement program for children birth through age seven. The Music Together curriculum was coauthored in 1987 by Kenneth K. Guilmartin (Founder/Director) and Rowan University Professor of Music Education Dr. Lili M. Levinowitz (Director of Research) and offers programs for families; schools; at-risk populations; and children with special needs, in over 2000 communities in 40 countries. The company is passionately committed to bringing children and their caregivers closer through shared music-making and helping people discover the joy—and educational value—of early music experiences.
For more information about Sing-Dance-Play classes and to register, call 510-393-5462 or visit www.sing-dance-play.com.
Contact
Sing-Dance-Play
Elina Coulter
510-393-5462
sing-dance-play.com

Contact