Arrowhead Grill Gives Nod to 1976 "Judgment of Paris" with August Wine Tasting
Monthly Wine Club Event Will Feature Selections from France and Napa Valley on August 24, from 2 to 4 p.m.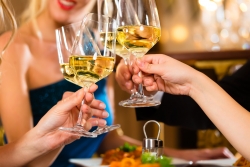 Glendale, AZ, August 21, 2013 --(
PR.com
)-- Arrowhead Grill is hosting a wine tasting that pits Napa Valley wines against their French counterparts in a nod to the 1976 "Judgement of Paris" wine tasting that put Napa Valley wines on the winemaking map.
Participants will compare a selection of red and white wine from both regions, focusing on the same criteria as the original judges: their own preference.
"We're offering a selection of reds and whites that show the variety and complexity of wines from both regions," said Chef Charles Wade Schwerd, owner of Arrowhead Grill. "And like the original tasting, we're not concerned with a criteria by which to judge the wines. Our guests are going to taste and enjoy wines from both areas and choose the ones they like best based on personal preference."
French Bordeaux vs. California Cabernet - What's in a Name?
What is the main difference between a California Cabernet and a French Bordeaux? American wines are named after the grape used to make them, while French wines are named for the region or "terroir" the grapes are grown in. Climate, land, wind, rain and temperature all affect the taste and smell of the grapes grown each season.
Bordeaux is famous for the five red grapes grown in the region: Merlot, Cabernet Sauvignon, Cabernet Franc, Petit Verdot and Malbec. Arrowhead Grill will be offering a hand-picked selection of these and examples of their American counterparts.
French Chardonnay gets it's name from a village in the region of Burgundy, France where the grape grows, and California Chardonnays are made from the Chardonnay grape. However, there are specific qualities attributed to each.
California growers pick the Chardonnay grape when it is riper and do not put the wine through malolactic fermentation, which softens the acid content. French producers pick earlier and use the ages-old process to produce wines with less sugar, giving French Chardonnays a crisp acidity and texture of minerality.
"We hope to inspire some friendly competition at this month's wine club," said Chef Charles Wade Schwerd, owner of Arrowhead Grill. "Guests can challenge themselves to their own blind taste test to see if they can distinguish between the Napa Valley and French selections, and our wine expert will be on hand to guide oenophiles and new wine enthusiasts on this entertaining tour of French and Napa Valley wines."
The Wine Club will gather at Arrowhead Grill from 2-4 p.m. on Saturday, August 24. The event is open to the public and costs $25 per person. Reservations are required and space is limited.
To RSVP for this month's Wine Club event call (623) 566-2224 or visit www.arrowheadgrill.com/reservations. For more information visit www.arrowheadgrill.com.
Known as one of the Valley's best steakhouses, Arrowhead Grill is located at 8280 W. Union Hills Dr. (Loop 101 and Union Hills) in Glendale.
To get the latest news on Arrowhead Grill's daily specials, follow Arrowhead Grill on Twitter at www.twitter.com/arrowheadgrill or on Facebook at www.facebook.com/arrowheadgrill.
About Arrowhead Grill
Established in 2008 by renowned Valley chef Charles Wade Schwerd, Arrowhead Grill epitomizes Schwerd's two decades of steakhouse experience, offering Valley residents a diverse menu of top quality steak and seafood. Featuring all natural meats and fresh, mercury-free seafood selected especially for Arrowhead Grill, the Glendale-based restaurant offers something for everyone in a setting that's unpretentious yet sophisticated. For more information, please visit www.arrowheadgrill.com
Contact
Arrowhead Grill
Al Stevens
480-648-1770
www.arrowheadgrill.com

Contact