The Perils of Writing Erotic Fiction
Penelope Pan, a comic erotic satire with dark overtones, was meant to serve as a metaphor about terrorism and the abuse of women and minorities. Trouble is the author was unprepared for the reception the book got.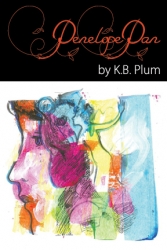 Redondo Beach, CA, August 22, 2013 --(
PR.com
)--
Penelope Pan
, described by its author as "Peter Pan turned into a thing of depraved comedy," is the first of its kind: an erotic satire about the abuse of women, gays, and the handicapped — even fat people! Written by K.B. Plum (a pseudonym), the controversial book was published earlier this year by Pink Flamingo Publications.
"There's so much substance to this book, whether this is on purpose or not I don't know; and it really doesn't matter," wrote
Evelyn Knightley of the United Kingdom in her review on Goodreads
. "It's incredibly well-written, the story-line is well thought out and I couldn't put the book down because I just needed to know how it ended."
Although a few readers accused the author of everything from writing about bestiality to pandering to the porn circuit, Plum bristled at the negative reaction among some family members and friends more accustomed to her profiles of important people in newspapers, magazine and on the Internet.
"Despite the over-the-top characters, fantasy aspects and sometimes disturbing sexual content," the author said. "I consider the book a metaphorical take on worldwide terrorism and political and religious divisiveness. But my main objective was to show how laughable sex and the sexes can be."
Even Knightley confessed the book "makes for an uneasy read." But she went on to say, "I love an uneasy read, personally. I don't know if I was expecting a book that's simply put a naughty twist on Peter Pan, but that isn't what this is. (Which I'm glad for, I've avoided the 50 shades hype for a reason.)"
An award-winning reporter and humorist for publications ranging from the South Bay Daily Breeze to the Los Angeles Times and Los Angeles Magazine, the author answers her negative critics in the only way she knows how—by explaining her motives in an article, "The Perils of Writing an Erotic Satire" by Katharine Blossom Lowrie (aka K.B. Plum).
To request the article for possible publication, arrange a phone interview or request a paperback or PDF eBook for review, email Katharine at penelopepanbook@gmail.com. For more information, or to read a chapter of the book, visit the Penelope Pan website.
Contact
Penelope Pan
Katharine Blossom Lowrie
310-710-4550
www.penelopepan.com
penelopepanbook@gmail.com

Contact