B. Renault and Asociados is Pleased to Announce the Release the Rentavillas Property Management System (PMS)
Rentavillas PMS is an easy-to-use hospitality software application for short term and long term vacation rental properties including villa, condos, apartments, in addition to boutique Hotels, small inns and bed and breakfast operations. Rentavillas PMS is centered and based upon the Rentavillas GDS, The only true GDS for the vacation rental, boutique hotel, small inn and independent car rental industry. http://www.brenault.com and http://www.rentavillas.com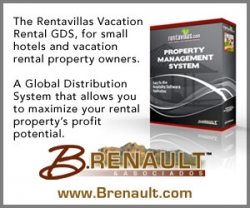 Las Vegas, NV, August 29, 2013 --(
PR.com
)-- The Rentavillas Property Management System
Rentavillas PMS is an easy-to-use hospitality software application for short term and long term vacation rental properties, centered and based upon the Rentavillas Global Distribution System (GDS), The only true GDS for the vacation rental, boutique hotel, small inn and independent car rental industry.
Features include
Property Database
User definable property amenities
Property photos
Property unit photos
On line (GDS based) reservation system
Ability to book your properties online via the On line Booking Engine from all of the Rentavillas Network Web sites
Optional, Independent Booking Engine, that can be integrated into your own web site
Ability
User definable rates structure
Availability calendar
On line credit card processing
Account Management
Income
Expense
Charges
Discounts
Taxes
User profile access controls
GDS (Global Distribution System – the only true vacation rental GDS)
Contact Correspondence
Offers
Invoice
Customer
Rentavillas Computer Reservation System (CRS) is a top of its class reservation management system that provides all the tools to run any sized property management company. The property management software is equipped with all the basic functionality and many additional features to give the optimal online software application experience.
Every home owner, hotel manager wants to feel special. The Rentavillas CRS module puts the advanced power of the internet at their fingertips. Full access and reporting to all of the important details, include regular hotel stays, plus long term rentals.
B. Renault y Asociados
Incorporated in the Republica Dominicana. B. Renault y Asociados, S.A., is a Vacation Rental and Independent Car Rental Inventory Global Distribution Systems company with a focus in the holiday, vacation and leisure activity business with operations including web sites, ownership and management of vacation, corporate, holiday travel rental, sales and services for properties and operations located in the Caribbean islands, St. Maarten, the Dominican Republic, Cayman Islands. The South Pacific island of Fiji, City of Las Vegas, Nevada in the United States.
http://www.brenault.com and http://www.rentavillas.com
Contact
B. Renault y Asociados
Brent Lewis
809-571-2876
www.brenault.com
You can request a PMS log on for free at
http://www.brenault.com/site/servicerequest

Contact