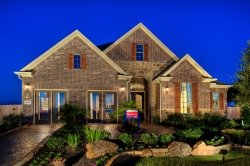 Houston, TX, August 29, 2013 --(
PR.com
)-- Taylor Morrison has taken a major stake in the master-planned community of Woodforest in South Montgomery County, the company announced today.
According to company officials, Taylor Morrison will build homes in its first 55+ community in the Houston area at Woodforest, signaling a new era for the builder and the four-year-old development. The builder disclosed that it will purchase more than 700 homesites from Johnson Development Corp. with sales beginning in early 2014.
"Woodforest is a community with a unique vision, situated in an area that is one of Houston's hottest submarkets," said Jonathan White, division president of Taylor Morrison's Houston division. "It's truly a unique area for Houston residents and an area we feel dovetails nicely for our planned 55+ community."
Virgil Yoakum, Woodforest's general manager, says there is a need in Montgomery County for a development that caters to the 55+ market.
"We have seen substantial interest from the 50-plus buyer, especially locally," said Virgil Yoakum, general manager of Woodforest. "Approximately 54 percent of our sales come from Montgomery County and of those, 50 percent are over age 50."
While still in its planning stages, Taylor Morrison has committed to building homes in a 55+ community that will complement the surrounding neighborhood, drawing on what the company sees as a pent-up demand for active-adult lifestyle in the South Montgomery County area.
"The Johnson Development Corp. has strong ties with Taylor Morrison, having welcomed them into our top-selling neighborhood of Riverstone to impressive success," said Doug Goff, Chief Operating Officer of the firm. "We anticipate another successful partnership as we work together to develop this exciting active-adult community."
"Our vision is to create the next generation of 55+ neighborhoods, designing a community that resonates with the boomer generation while offering the amenities of any first-class community," White said. "Woodforest gives us the perfect platform to launch such a concept."
Among the nation's 20 top-selling master-planned communities, the 3,000-acre Woodforest is tucked within the area's signature pine and oak forest, but is still just minutes from the 22,000-acre Lake Conroe as well as The Woodlands Mall, Market Street, the Cynthia Woods Mitchell Pavilion and nationally recognized regional health care facilities. Woodforest offers numerous amenities, including the 27-hole Woodforest Golf Club, parks, playgrounds, miles of trails and the 3-acre Lily Pad Spray Park.
Forest Island, a planned 16-acre tennis and aquatics center located in the heart of the community, recently unveiled its first tennis courts and basketball court. A free-form amenity pool debuts this summer, complete with a slide tower, spray area, baby pool and a unique main pool designed to create the impression of multiple pools.
For more information on Taylor Morrison, please visit www.taylormorrison.com. For details on Woodforest, visit www.woodforesttx.com.
About Taylor Morrison
Headquartered in Scottsdale, Arizona, Taylor Morrison Home Corporation operates in the U.S. under the Taylor Morrison and Darling Homes brands and in Canada under the Monarch brand. Taylor Morrison is a builder and developer of single-family detached and attached homes serving a wide array of customers including first-time, move-up, luxury and active adult customers. Taylor Morrison divisions operate in Arizona, California, Colorado, Florida and Texas. Darling Homes serves move-up and luxury homebuyers in Texas. Monarch, Canada's oldest homebuilder builds homes for first-time and move-up buyers in Toronto and Ottawa as well as high rise condominiums in Toronto. For more information about Taylor Morrison, Darling Homes or Monarch, please visit www.taylormorrison.com, www.darlinghomes.com and www.monarchgroup.net.
About Woodforest
Woodforest, a project of The Johnson Development Corp., is a 3,000-acre master-planned community surrounding Woodforest Golf Club, one of the top-ranked daily-fee golf courses in the Houston area. Planned is a broad array of housing choices and prices — single-family, patio, townhomes, condominiums and multi-family — targeted to lifestyle-oriented buyers. Woodforest is slated for more than 5,500 homes and a full complement of retail and commercial properties. Located north of downtown Houston, Woodforest is five miles north of The Woodlands and six miles south of Conroe. Convenient access just seven miles west of Interstate 45 is provided by Fish Creek Thoroughfare, the first new major north/south thoroughfare connecting Conroe in Montgomery County and Tomball in Harris County. For more information, visit www.WoodforestTX.com or call 936.447.2800.
About Johnson Development Corp.
The Johnson Development Corp. is a Houston-based, award-winning residential and commercial land development company. For more than three decades, the company has set the standard for successful master-planned communities in Houston, Atlanta and other markets around the country. Its impressive collection of Houston-area communities includes Riverstone, Sienna Plantation, Cross Creek Ranch, Woodforest, Fall Creek, Tuscan Lakes, Edgewater, Harmony, Willow Creek Farms, Silverlake and the new Imperial re-development. Johnson Development's communities in Atlanta include Towne Lake, BridgeMill and Lake Arrowhead. The company also provides outsourced development services for property owners, homebuilders and other parties on a fee basis to help realize the potential of their land positions. For more information on Johnson Development, visit www.johnsondevelopment.com.