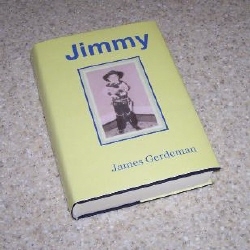 Coral Springs, FL, September 07, 2007 --(
PR.com
)-- James Gerdeman entertains readers with the antics of four young brothers and their friends in the small town of Kalida, Ohio during the 50's with Print-on-Demand Availability of Jimmy at Lulu.com
James Gerdeman paints the story of young brothers creating memories with the freedom to explore their world in Kalida. The publication of Jimmy is in conjunction with Lulu, the world's fastest-growing provider of print-on-demand books.
Jimmy is an autobiographical account of anecdotal sequences woven among the family and friends in a time that is lost forever. The eldest of five brothers carves his way through life developing adventures at Big Bend, Kings Pond and Plum Creek. They mine coins from the river; catch turtles with friends; and develop a family business while perfecting a winning technique for eating pies. They are always discovering means to earn money so they can enjoy life to the fullest. His youngest brother, Mark, teaches them the realities of life. These boys possess the innocence of youth with the attitude of young men.
James Gerdeman wrote Jimmy as a project conceived by his wife, Mary Jo, during a time where work caused him to temporarily relocate for a number of years. Hours were shared on the patio and during dinners out telling the funny stories of Jim's youth. She thought a collection of these talks would be entertaining. Jim used his idle time while away from home to develop the stories and she helped by recalling many of the episodes.
Jim came to Lulu because he found there was a well thought out online support for what he and Mary Jo wanted to accomplish. Jimmy is available for purchase at www.lulu.com, in a marketplace filled with other unique and wonderful surprises.
Link to Publication:
www.jdgerdeman.com
About Author
James Gerdeman graduated from Kalida High School and earned an Industrial Engineering degree from the University of Dayton. His first book, Radio Frequency Identification Application 2000, was published by Research Triangle Associates. He has written articles for trade magazines and has three other works in progress. More information at www.JDGerdeman.com
About Lulu
Founded in 2002, Lulu is the world's fastest-growing print-on-demand marketplace for digital do-it-yourselfers. Please see Lulu's site for more information.
###
Media Contact: James Gerdeman, jdgerdeman@aol.com, US +1 7862568902 Call.
*Release Source: James Gerdeman