Mahabbah Foundation Hosts Backpack Giveaway
200 Children Served on Saturday with Free Backpack Giveaway.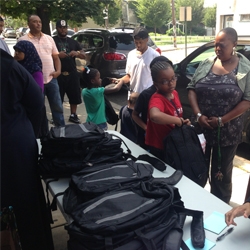 Philadelphia, PA, September 02, 2013 --(
PR.com
)-- In order to be successful in school, students need to start off with the right tools and support. In the spirit of the 50 anniversary of Dr. King's "I have a dream speech," this past weekend the Mahabbah Foundation, a local Philadelphia based non-profit hosted a back to school backpack giveaway event. Serving is one way to build the "beloved community" that Dr. King spoke of in his historic remarks. The event was held on the grounds of the United Muslim Islamic Center and attracted families from all corners of the neighborhood and faiths.
At the start of the event, a line had formed that would allow for over 200 children to receive their backpack amongst other supplies within an hour. With smiles on their faces, many children with the help of their parents entered into a raffle to win a free Amazon Kindle. A winning family will be notified on Wednesday, September 4th, 2013.
"Events like our backpack giveaway have the ability to inspire children in these neighborhoods that there are people outside of their immediate family who support them, and care for them," said Muhammad Sattaur, Executive Director for the Mahabbah Foundation.
Contact
Mahabbah Foundation
Muhammad Sattaur
516-582-9186

Contact