Sonic Shield™ by Bird-B-Gone Combines Sound and Light to Deter Critters from Property
Bird-B-Gone has introduced Sonic Shield™, a deterrent device that uses flashing LED lights and predator sounds to keep pests away from property.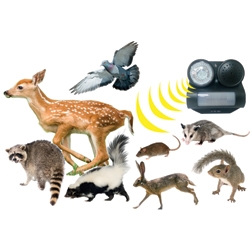 Mission Viejo, CA, September 05, 2013 --(
PR.com
)-- Bird-B-Gone Inc., leading manufacturer of effective, humane bird deterrents, today announced the introduction of its new Sonic Shield™.
The innovative pest control device frightens birds and other unwanted critters away from property using sound and light. Self-contained and completely portable, the Sonic Shield™ operates on 4 AA batteries and is easily installed virtually anywhere. The versatile device has two modes of operation for around-the-clock pest deterrence: a daytime mode to repel pests using loud eagle (a predator for most birds) and barking dog sounds; and a nighttime mode that repels pests using only flashing LED lights—ideal for areas where night noises are not allowed. The Sonic Shield™ is a safe and humane way to get rid of birds and many other pests. For additional advice on how to
keep pests off property
, consult Bird-B-Gone.
About: Bird-B-Gone supplies the commercial, industrial and residential market with effective, humane bird deterrents manufactured in the USA. The company's mission to stay on the cutting edge of the latest advancements in the bird control industry by uniting new technologies with tried and true methods to develop the most effective bird deterrents available. At Bird-B-Gone our expertise, training and customer service set us apart. Our products carry the longest industry guarantees, and are proudly made in the United States. We have a team of Bird Control Experts that can help solve virtually any pest bird problem.
Visit us online at http://www.birdbgone.com to learn more or call us at 1-800-392-6915 or email nobirds@birdbgone.com with additional questions.
Contact
Bird-B-Gone
Ashley Johnson
800-392-6915
www.birdbgone.com

Contact