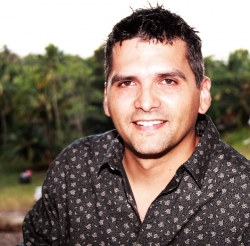 Rarotonga, Cook Islands, September 09, 2013 --(
PR.com
)-- It is with great pleasure that Pacific Resort Hotel Group (PRHG) would like to announce their success in two award categories at Australia's esteemed HM Awards for Hotel and Accommodation Excellence 2013. There was a record turnout for this year's HM Awards held at Sydney Town Hall on Friday, September 6 with over 550 attendees at the gala presentation dinner; a grand audience for all of the evening's winners.
Pacific Resort Aitutaki has been awarded "South Pacific Property of the Year" for the first time ever at the HM Awards. PRHG are honoured to be recognized by such a prestigious award at Australia's leading travel industry event, attended by top hotel owners, hotel management companies and industry players. PRHG's other luxury property; Te Manava Luxury Villas & Spa, was also named a finalist for the award alongside Pacific Resort Aitutaki. Other finalists in this award category included: the InterContinental Bora Bora Resort and Thalasso Spa, French Polynesia and Sofitel Bora Bora Marara Beach and Private Island, French Polynesia.
PRHG is also pleased to announce that Marcus Niszow, Deputy CEO for the group has been awarded the "High Commendation" award in the "South Pacific General Manager of the Year" category.
Niszow, one of 11 finalists in the "South Pacific General Manager of the Year" category, was quick to share the accolades with all involved saying that "The results PRHG produce on an ongoing basis come from a total team effort. The success of our team, resorts and business owes much to all of the people involved in the experience that is a visit to the Cook Islands, it is our team and the people of the Cook Islands who underpin the success of PRHG."
The HM Awards add to an incredibly successful 2013 for PRHG, with includes other accolades such as the Seven Star Global Luxury Award, Hotels Combined Stellar Stays Award, World Luxury Spa Awards as well as various Tripadvisor Travellers Choice awards and Certificates of Excellence.
Notes to Editors
About Pacific Resort Hotel Group
PRHG develop boutique Island resorts and hospitality facilities which are underpinned by a focus on local culture, the environment, and unique architectural and landscaping design to provide discerning guests an authentic South Pacific experience. PRHG successfully owns and operates two award winning resorts under the Pacific Resort brand and a new property under the Te Manava Luxury Villas & Spa brand in the Cook Islands. For more information visit
www.pacificresort.com
About Pacific Resort Rarotonga
Authentic Boutique… Located in the South Pacific island nation of the Cook Islands Pacific Resort is Rarotonga's leading full-service authentic boutique resort situated in an unrivaled location on the glorious white sands of Muri beach. This premium boutique resort offers a perfect blend of modern comforts and traditional island hospitality. A place where simple, lazy days meet luxurious evenings. And where the friendly, gracious staff meet your every request.
About Pacific Resort Aitutaki
Secluded Luxury…Like a siren of the Pacific, Aitutaki, Cook Islands, beckons you. This magical place, full of South Seas idyll and romance, is home to Pacific Resort Aitutaki, an enclave of privacy, refinement and luxury, that seduces even the most discerning traveler. Pacific Resort Aitutaki member of the Small Luxury Hotels of the World collection has just 27 luxurious 'absolute beachfront' bungalows, suites and villas all with their own personal, panoramic view of Aitutaki's world-famous lagoon, where every sunset majestically captures the colours of the lagoon and the ocean beyond.
About Te Manava Luxury Villas & Spa
The road less travelled…You're a traveler who appreciates beautiful surroundings and luxurious five star accommodation…and you also value your independence. Te Manava Luxury Villas & Spa has been designed just for you. This new Cook Islands concept in luxury accommodation gives you the freedom to personalise your own leisure experience. Set on the beautiful white sand beach of Rarotonga's stunning Muri lagoon, your private villa awaits. How you choose to use it is completely up to you.
About HM Awards
The HM Awards for Hotel & Accommodation Excellence, are in their 11th year in 2013 and are the leading awards for the accommodation industry in Australia, New Zealand and the Asia-Pacific region. In the last ten years, almost 5000 people have attended the HM Awards and more than 400 awards have been awarded to hotels across Australia, New Zealand and the South Pacific. Annually, over 600 different properties are nominated. After a lengthy voting process by a key judging panel involving 50 industry professionals and travel media, the finalists and winners are then decided.