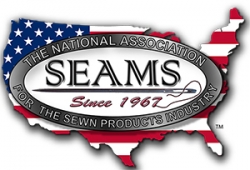 Columbia, SC, September 11, 2013 --(
PR.com
)-- SEAMS, the National Association for the U.S. Sewn Products Industry, will hold its Fall 2013 Networking Conference on September 19-21 at the Marriott at Grande Dunes in Myrtle Beach, South Carolina. The annual event, which draws executives and professionals from all across the diverse fashion and sewn products industry, will focus on business strategies for "Securing Your Business Future." Spread over two half-day sessions, the conference agenda will feature presentations and panel discussions aimed at helping attendees maximize business opportunities while more effectively managing risks. Conference information and registration is available by phone at 1-803-772-5861 or through the SEAMS website at
http://www.seams.org
.
According to SEAMS Executive Director Sarah Friedman, "Today's manufacturers are experiencing increasing business opportunities as apparel and other softgoods retailers and brands are rediscovering the many benefits of producing goods in the USA. Unfortunately, they also face significant risks of a slow growing economy with increasing government regulation. We are pleased to have a powerful combination of keynote presentations and interactive panel discussions that will provide attendees with substantial take-away value. We encourage all industry professionals to attend."
Presentations include:
Retail is Changing; What About You?
- Anton Wilson, Product Development Executive (retired), Target
- Will Duncan, VP Business Development, [TC]2
Health Care Laws and Regulations
- Anne Huntley – U.S. Small Business Administration (SBA)
New Business Opportunities
- Dan St. Louis, Director, Manufacturing Solutions Center (MSC)
Panel Discussions:
Brands and Manufacturers
- Brooks Brothers, HomTex, LA Corp, Sterlingwear of Boston
Yarn, Fiber and Fabric
- Brand and Oppenheimer, Carolina Cotton Works, Milliken & Company, National Spinning
Technology
- Computer Generated Solutions, Gerber Technology, Incentive Payroll Experts
Attendees will also enjoy numerous networking opportunities, including an opportunity to introduce their business to all attendees, a special networking reception, and ample breaks. Social events will include a group dinner complete with entertainment and door prizes and a pre-conference (September 19) putting contest, golf outing, and early arrival reception. SEAMS members will receive association business and upcoming tradeshow and event updates; as well as elect next-term board of directors.
About SEAMS
SEAMS, the National Association for the Sewn Products Industry, is a not-for-profit organization comprised of sewn products contract and brand manufacturers and their suppliers. The organization's mission is to support the resurging US sewn products industry through educational programs that will improve the quality and productivity of the sewn products industry collectively and of its member firms individually. For more information, visit the website at http://www.seams.org.