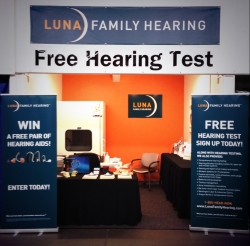 Puyallup, WA, September 13, 2013 --(
PR.com
)-- This year features a drawing for a free set of hearing aids.
For second year in a row, Luna Family Hearing will be offering free hearing tests at the Washington State Fair. One lucky fair goer will also receive a free pair of digital hearing aids. Every adult, 18 or older, who stops by the booth and fills out an entry form is eligible to win the hearing aids. Luna Family Hearing is a locally owned and operated hearing care company.
About Hearing Loss
Nearly 40 million Americans have hearing loss. Most frequently, it is due to repeated exposure to loud noises—at concerts, nightclubs, crowded restaurants, loud workplaces, and sporting events like baseball and football games. What few people realize, though, is how easy it is to get a hearing test by a licensed hearing care professional. And it's free at Luna Family Hearing.
If it turns out that hearing aids are needed, today's technology allows wearers to hear from all directions, in all sorts of sound environments, even underwater. The hearing aids are digital, wireless, and can even connect directly to your smartphone or television.
For more information on hearing loss, call 855-HEAR-NOW, stop by one of the 11 locally owned Luna Family Hearing offices in Washington and Oregon, or visit
www.lunafamilyhearing.com
.
For more information:
Contact John Luna at
John.Luna@LunaFamilyHearing.com
, 425-358-0956.