Billie Davies Nominated Jazz Artist of the Year by LAMA, the 23rd Annual L.A. Music Awards
Female Jazz drummer and band leader Billie Davies has been nominated Jazz Artist of the Year by the L.A. Music Awards for 2013. With a background in Classical and Jazz and a lifetime of musical experiences in jams, performances, recordings and music production, the listener is treated to jazz inclinations within her ensembles that bristle with cutting-edge freshness.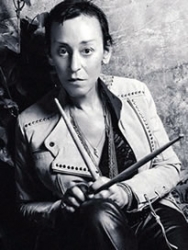 Los Angeles, CA, September 24, 2013 --(
PR.com
)-- The 23rd annual Los Angeles Music Awards has nominated Billie Davies Jazz Artist of the Year for 2013.
Billie was born on the coast of Belgium, Europe.
Her grand-father, Maurice Clybouw, was the first influence in her life to introduce her to the drums when Billie was about three years old. She has had a love relationship with rhythm and drums ever since.
Billie was surrounded from her earliest memories in the arts of entertainment and fashion, the culinary arts, the fine arts and the performing arts in Northern Europe, where she was born an artist and lived the first half of her life thriving in Europe's nightlife as a musician and DJ. A European born and raised American citizen, she embraces and mixes both contemporary cultures.
At age 25 is when Billie made the transition to become a professional musician. Some of her deepest rooted influences stem from classical, gypsy, manouche, blues, jazz, free jazz and soul/funk. As a player she feels that Al Foster, Billy Higgins, Billy Cobham, Jack De Johnette, Ed Thigpen, and Peter Erskine have been her biggest influences. Becoming completely immersed into the jazz, free jazz and avant-garde world, which is second nature for her stylistically, three years later, she was a professional drummer, and the rest is history...
She performed throughout the Netherlands, Belgium, France, Italy, Northern Africa, Spain, Portugal and Greece for the next 7 years. She knew her love of drumming had become her life. A move to the United States at age 32 gave her an opportunity to become deeply involved in the high end contemporary fine art world, in addition to recording 2 albums, "Cobra Basemento" and "Dreams" with Saul Kaye and Mike Goodwin, as well as becoming a US Citizen. It was during this time, Billie slowly but decisively came back towards her roots and pursued her talents as a matured jazz musician. In 2009, she made Los Angeles, California her home base and in 2011, in Hollywood, she began writing for her new album "all about Love" and started the process of choosing musicians to develop her sound for the album. In June 2012 she independently released "all about Love" with Tom Bone Ralls on Trombone and Oliver Steinberg on Bass. In August of 2012 she began writing all original material for her album "12 VOLT" and began her search for the right musicians. In September 2013 Billie Davies recorded and published "12 VOLT" with Daniel Coffeng on Guitar and Adam Levy on Bass. The album will be independently released in the first half of October 2013.
Paper Ballot Voting
Event: The 23rd Annual Los Angeles Music Awards Nominee Night Press Event
Date: Thursday, September 26th, 2013
Venue: The Whisky A Go-Go: 8901 Sunset Bl. West Hollywood
Doors Open: 6:30 pm
Panel Discussion: 7:10 to 7:40
Sound bytes for Voting Process Begins @ : 7:45
Contact
Billie Davies
Billie Davies
310-467-2061
www.billiedavies.com

Contact