Indie Author and Mother of Three Publishes First Book, "the Fairies of Turtle Creek," a Chapter Book for Ages 10 and Up: Magical Realism for Middle Grade Readers
The world of self-publishing is like the wild west, and for Jill K. Sayre it is a golden opportunity. Twelve years in the making, this mother of three's dream to have her book published came true. Her goal was to get it out in time for her Dallas, Texas town's Centennial celebration which takes place in 2013-14, since the story is set there and contains local 1920s history. She inspires other writers through her new business and publishing company, Infinity Oak Books.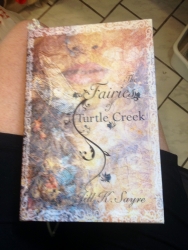 Dallas, TX, September 26, 2013 --(
PR.com
)-- New magical realism book for tweens, set in Highland Park, Texas.
Local resident releases her first book, indie published in time for the city's Centennial celebrations.
Author Jill K. Sayre released her first book, "The Fairies of Turtle Creek," February 19th, 2013. Published by Infinity Oak Books and Wisdom House Books, it is available in hardback, paperback, and e-book on Amazon.com, Barnes & Noble, Nook, iBook, and Kindle. She is also selling one hundred special editions, available only at special events and through her website, in honor of Highland Park's town and school district Centennial celebrations in 2013 and 2014, where the book is set.
After living most of her life in California, Sayre has now been a resident of Highland Park for six years. She was inspired by the beauty of Turtle Creek and the patriotism of the town.
"I was captivated by the local creeks and Lakeside Drive. My children always looked for fairies there when they were little. That sparked my imagination and the story began to form in my mind," Sayre remarked. "For me, creative writing begins with a 'what if' scenario. What if there really were fairies in these modern times? What would need to happen to make us believe in them? What would their purpose on earth be?"
Sayre is a professional educator, specializing in gifted students, and now teaches other writers how to produce their best book possible. "I heard someone say that the publishing industry is like the Wild, Wild West, and I have to agree. There is a way to get content out into the world for others to enjoy. It's our job to be smart about the quality of our work."
She researched the history of Dallas and Highland Park in the 1920's, as well as fairy folklore and modern philosophies, weaving her discoveries into her story:
Thirteen-year-old Claire believes science has the answer for everything, so she is skeptical when her ailing grandmother, who comes to live with them, insists that fairies are real. Grandma pulls Claire in with stories about growing up in the family home in the 1920's, and Grandma's ideology begins to open up a world of new possibilities. Will believing help Claire with her crush on a cute guy, her concerns for her soldier brother's safety, and her own feelings of self-doubt?
This story includes letters and diary entries from the 1920s which is a catalyst for the grandmother and granddaughter relationship, as well as patriotism found through the sub-story of Claire's brother who is away fighting in the Iraq War.
Book reviewer Miranda from Fairy Fiction for Young Fans said, "Author Jill K. Sayre does a great job of fleshing out the main character, Claire, so that she feels multi-dimensional…It's a sweet story about one girl's struggle to believe. This is also a great story if you love learning interesting historical facts…I love a book that makes me a little bit smarter just by reading it."
To learn more about "The Fairies of Turtle Creek," go to
www.jillksayre.com
or to
http://www.facebook.com/FairiesOfTurtleCreek
to join other fans on Facebook.
Contact
Infinity Oak Books
Jill K. Sayre
972-803-4744
www.jillksayre.com

Contact