Shawn Mills of Green House Data to Speak at AFCOM Data Center World
What's it Really Like to Build a Data Center.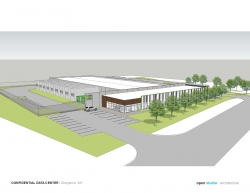 Cheyenne, WY, September 27, 2013 --(
PR.com
)-- Green House Data, a
leader in infrastructure services including cloud hosting and colocation
and a VMware vCloud Powered partner, today announced company president Shawn Mills will represent the company at AFCOM's Data Center World Fall 2013 in Orlando, Fla.
This year's theme is Aligning the Data Center with Business Strategy and the event will feature panels, education sessions, and tradeshow geared towards the modern data center ecosystem, ranging from long-term planning to day-to-day operations. Conference tracks include data center trends, management topics, and facilities, among others.
A founding executive of Green House Data, Mills has a deep background in the technology industry, with expertise in product and business development and go-to-market strategy. He will present the topic "What's it Really Like to Build a Data Center," with examples from a current Green House Data project being undertaken in partnership with fifteenfortyseven Critical Systems Realty.
"I'm honored to be invited to speak at AFCOM," said Mills. "As demand for infrastructure services grows, data centers will only continue to influence business operations and find relevance across every sector of IT."
Headquartered in Wyoming, Green House Data has broken ground on a new 35,000 sq ft, 5MW colocation and disaster recovery facility, with phase one slated for completion by the first quarter of 2014. Committed to sustainability, the company powers its infrastructure entirely with renewable energy—including wind and solar—and uses outside ambient air for cooling year-round.
The conference will take place on September 29 – October 2 in Orlando. Speakers and panelists confirmed on the agenda include IT technology leaders across a wide array of disciplines, including big data and the software-defined data center. Established in 1980, AFCOM currently includes 3,500 data center professionals and 40 chapters worldwide.
About Green House Data
Green House Data is a cloud hosting and colocation services provider with highly energy efficient data centers located across the country. The company helps its clients reduce the pressure that comes with lower IT budgets and increasingly high demands. Green House Data is a certified VMware service provider, SSAE 16 Type II and HIPAA compliant, as well as an EPA Green Power Partner. Visit the website,
www.GreenHouseData.com
, to learn more, view demos, or request a free cloud trial.
Contact
Green House Data
Wendy Fox
866.995.3282 ext 134
www.greenhousedata.com

Contact