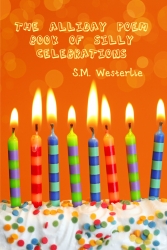 El Paso, TX, September 27, 2013 --(
PR.com
)-- The debut author of Seattle Sauce Press, a small indie publisher, has written holiday poems for every single day of the year—and then some! S.M. Westerlie's The Alliday Poem Book of Silly Celebrations features themes from the mundane to the severely bizarre. Alliday was recently released, so you can now enjoy it in print or through Kindle.
Flip to any date, and in addition to the varied and clever poetry, you might find fun facts, though-provoking quotes, or captivating bios on major historical figures born that day. The simplicity, insight, and inclusion are attracting and charming a wide range of readers.
Teens, tweens, daydreamers, lovers of learning, and the young-at-heart will appreciate Alliday. Among the poetic forms included are rondeau, terza rima, limerick, tetractys, cinquain, sonnet, pantoum, haiku, double dactyl, and epigram. This book is a useful tool for learning more about the intricacies of poetry, but more than that, it's just plain fun! Every day is a chance to celebrate. Let Alliday be your guide!
They will be having a free Kindle promotion in November. To receive the announcement and get your free Kindle copy, connect with the author at www.facebook.com/smwesterlie or on Twitter at @ShannonHi.
You can find The Alliday Poem Book of Silly Celebrations, ft. oddball, off the wall, and a few not-so-wacky days of fun on Amazon (http://amzn.to/15KVlGb) and at local bookstores, such as Barnes & Noble (bit.ly/18tmAFM) today.