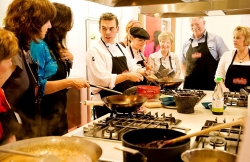 Las Vegas, NV, October 05, 2013 --(
PR.com
)-- In-Home Cooking Lessons, based in Las Vegas, NV, is launching a new marketplace for cooking lessons. The site helps connect beginner cooks to a certified instructor in their area. The site will launch in over 2,100 towns across the United States. The cooking instructors offer a variety of cuisines and lesson plans for groups, individuals, and families.
InHomeCookingLessons.com secret is in 3,600 established partnerships with certified cooks who pass a training exam and generally have 5-15 years of professional experience. The company partners with the pros and gives them a percentage of the lesson.
In Home Cooking Lessons
is being launched by Lesson Pro LLC. A company featured this year at the Empact Showcase in the United Nations. Lesson Pro has provided over 20,000 lessons through 10 web properties which feature private instruction marketplaces. Some of the other Lesson Pro sites include: Goskate.com and TennisProNow.com
The owner, Rob Dunfey, says purpose of the site is "to make cooking lessons more affordable and accessible." He continues, "Currently, the offering of cooking classes is restricted to colleges, a limited number of cooking schools, and some pricey in-home chefs. InHomeCookingLessons.com is taking the benefits of an in-home cooking lesson and providing it for the cost of a class."
When asked about pricing, Dunfey says, "The pricing depends on the geography. You will find lessons from $50 per session in Manhattan, New York and from $30 per session in Dothan, Alabama." Discounts will be offered to those who buy "packages" of lessons. With the prevalence of fast food, is learning how to cook still on the front burners on young millennials? Will this service take off?
When asked, 20-year old New York University student Brittany Strobell said, "I think fast food is definitely taking up more of people's diets than it used to, but I think what they're doing is a great idea. I would think about enrolling."
So how does this site work? The instructors sign up, pass a certification exam, set their rates and availability and then are listed on the website for student's to pick their favorite teacher. All instructors are trained and given a customized syllabus to instruct their students. Other lessons are customized to meet an individual meal the student is looking for. The website recommends having the whole family join for a fun uniting activity in the kitchen. The main services include training, catering, and helping to create and design meals.
Students get to create their own menus and choose from a variety of cuisines including: casual, Italian, seafood, Thai, vegetarian, vegan, gluten-free, Asian-inspired, home-style, and barbeque. All of the ingredients are brought into the house and the learning begins.
InHomeCookingLessons director of services, Tom Darien, says, "We spent about 20 months preparing for this, gathering the best cooks, and developing the curriculum. To date, we have about 3,600 cooks signed up to teach, and we anticipate a very thrilling first year."
For more info on this press release, contact:
Robert Dunfey
InHomeCookingLessons.com
877-447-4745
info@inhomecookinglessons.com