XCom Global Adds 4G Mobile Hotspots to WiFi Device Rental Fleet
As customer base grows and 4G networks expand, company upgrades devices.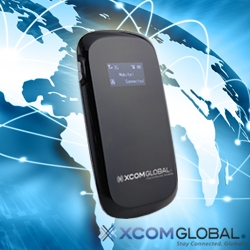 San Diego, CA, October 07, 2013 --(
PR.com
)-- XCom Global, Inc., a leading provider of reliable wireless Internet access rental services for international travelers, announced today it is now offering ZTE Mobile Hotspots to renters who are heading to destinations with high-speed 4G/HSPA+ wireless coverage.
The ZTE MF60 Mobile Hotspot provides reliable and secure Internet connectivity for up to ten WiFi-enabled devices. The MF60 is compact, easy-to-use, and supports 4G (HSPA+) networks with a maximum download speed of 21.6 Mbps. The device features extended battery life, 100 hours of stand-by time, and an LED screen to enhance usability. The MF60 also supports quad-band frequencies for expanded connectivity worldwide, working in GSM/GPRS/EDGE/WCDMA/HSPA/HSPA+ networks.
"Demand for our service has been steadily increasing and 4G networks are becoming more widespread, so it was time to evaluate what devices to add to our fleet of rental units," said Seiji Nishimura, founder and CEO, XCom Global, Inc. "The MF60 stood out for its simple, compact design and solid performance."
XCom Global has negotiated discounted rates in over 180 countries so they can offer travelers
international data plans
at a low fixed rate. Travelers arrange for their coverage before they set out on their trip so they can have an affordable data connection upon arrival by simply powering up their XCom Global Mobile Hotspot. The Hotspot is battery powered, fits in your pocket, connects via 3G or 4G wireless networks and can work with up to five or ten devices – no technical expertise or unauthorized unlocking required – to provide private and secure connections including support for WPA2 and VPN pass-through. Since it is a flat-fee rental, travelers have the comfort of knowing the exact cost of staying connected and can avoid counting megabytes or incurring expensive roaming fees.
About XCom Global, Inc.
Headquartered in San Diego, Calif., XCom Global, Inc. is a leader in providing easy access to low-cost, flat-rate, high-speed, secure, wireless Internet access rental services to business and leisure travelers. The company offers broad worldwide coverage at rates substantially below standard international roaming charges. XCom Global is a U.S. subsidiary of an established Japanese company that has been in the forefront of providing travelers with innovative wireless communications services since 1995. For more information, please visit www.xcomglobal.com, call 877-520-8242 or contact us at info@xcomglobal.com. In addition, get updates and travel tips by connecting with us on Facebook and Twitter.
Contact
XCom Global, Inc.
Seiji Nishimura
858-222-8242
www.xcomglobal.com
Media Contact:
Cynthia Guiang
CG Communications
858-793-2471

Contact