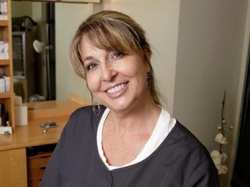 Columbus, OH, October 08, 2013 --(
PR.com
)-- To commemorate its 50th anniversary, Columbus State Community College profiled 50 influential graduates they are calling History Makers. Bobbie Perry, surgical first assistant to Dr. Jeffrey Donaldson of
Donaldson Plastic Surgery
, was counted among the institution's most celebrated alumni.
Bobbie enrolled at Columbus State with an interest in accounting, but she soon realized that she wanted a career in medicine. She joined the Surgical Technology program because she enjoyed being in the operating room, helping surgeons handle complicated procedures. This led her to pursue a clinical specialty after she completed her initial degree and then she worked in the field for eight years.
Bobbie spent time training and working at Grant Medical Center, Riverside Methodist Hospital and the Riverside Outpatient Surgery Center (ROSC) before deciding to join Dr. Donaldson's practice. With 150 clinical hours to complete for the advanced degree, Perry chose to complete coursework online and spend all her free time assisting surgery.
"It's pretty great to get to do what you love," says Bobbie Perry of Donaldson Plastic Surgery. "I work side by side with Dr. Donaldson, and I have the instructors at CS to thank for all the opportunities I've been given. I know the school will turn out many more leaders over the next 50 years."
As a surgical first assistant, Bobbie works with Dr. Donaldson and his patients both inside and outside of the operating room. She has a glowing reputation among patients because of her strong rapport and bedside manner, in addition to her clinical skills.
Bobbie has helped Dr. Donaldson to establish a widely-recognized plastic surgery practice in Columbus, Ohio that has earned many honors and awards. Most recently, Donaldson Plastic Surgery was named to the "Fast 50" list of Central Ohio's fastest-growing companies.
For more information about Donaldson Plastic Surgery and the surgical procedures offered, Bobbie and Dr. Donaldson invite you to schedule an appointment at their office located at 4661 Sawmill Rd. Suite 100, Columbus, OH 43220. Prospective patients can also contact them by calling 614-442-7610 or by visiting www.donaldsonplasticsurgery.com.
About Donaldson Plastic Surgery
A plastic surgery practice serving the Columbus, Ohio metro area, Donaldson Plastic Surgery helps patients make aesthetic improvements to the face, breasts, and body. Donaldson Plastic Surgery also offers non-surgical treatments using Botox, dermal injectable fillers, fat transfer and medical-grade skincare.