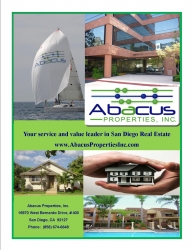 San Diego, CA, October 15, 2013 --(
PR.com
)-- Abacus Properties Inc. is unveiling their new smart phone app this month. Designed by real estate professionals, Abacus' app allows San Diego home buyers to search and view on their mobile devices any property on the Multiple Listing Service (MLS). Because it gets data directly from San Diego's local MLS, all information is current and updated continuously. Abacus' agent will be immediately notified every time a buyer uses the app to view a listing, opening a line of communication between the buyer and the agent.
"We are proud to provide our agents with this cutting edge tool to enhance their business. At the same time, we deliver increase buyer convenience and create tremendous interest for our listings!" said Broker of Record, Kathleen Low. "We are committed in providing our agents with advance technology and training, in turn, they will provide their clients with outstanding service and results."
Abacus' app is available for free download in Apple Store and Google Play, or, text "abacus" to 32323.