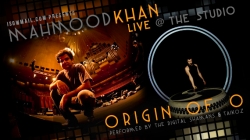 Sydney, Australia, October 15, 2013 --(
PR.com
)-- The artist achieved success in the Australian music industry, with his song "Like the River" when he performed at the Sydney Opera House in 2009. To date, he's the only Asian Artist who has recorded an album at the famed opera house and the first to have performed live on Australian television.
Isowmail.com, the world's first personal email system, proudly presents the event, featuring Khan and The Digital Shamans and TaikOz performing The Origin of O. Khan will dazzle the audience with his voice which earned him the recognition as a "distinguished talent" by the Australian government. The artist credits his influences as The Bee Gees and Stevie Wonder, and has developed a unique World/Pop sound. He celebrated over 50 million views on his YouTube account in August 2011 and is known for his work with Nusrat Fateh Ali Khan.
The event is presented thanks to Isowmail.com, an innovative email service allowing professionals and creatives to brand themselves with an identifying email address.The free service lets anyone choose an address that best expresses their interests, business, or field. The website is also a comprehensive article submitter, featuring the latest news in a number of topics.
To see more information and watch videos featuring Mahmood Khan, please visit MahmoohKhan.net. For information on Isowmail and to sign up, visit Isowmail.com
For tickets to the concert on Saturday, November 16, 2013 7:45 P.M. visit the link:
http://www.sydneyoperahouse.com/whatson/mahmood_khan_13.aspx