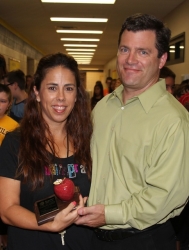 Gilbert, AZ, October 16, 2013 --(
PR.com
)-- Taylor Morrison is partnering with KEZ 99.9 FM to recognize one outstanding Valley educator each month during the 2013-2014 school year as part of the radio station's "Excellence in Education" recognition program.
For their outstanding achievements in the classroom, each Valley teacher will receive an Excellence in Education plaque, $99 and prizes for their efforts.
Michelle Capriotti, a sixth grade teacher at Charlotte Patterson Elementary, is being honored for the positive impact she has on her students preparing them for the next step in their education.
As a child, Capriotti struggled with math and has since developed unique ways to teach the subject to her students. Parents of students such as Melissa Branting, who nominated Capriotti, are amazed at the difference only a few months in her class make in their children.
"My daughter, the shy girl who did well in school entered Mrs.Cap's class and after 1-2 months, I had a child with confidence, poise and one that came out of her shell because of her teacher," Branting said. "Mrs. Cap was an amazing role model not only teaching classroom instruction, but life lessons as well to push them to be ready for Jr.High."
Capriotti has dedicated her time to inspiring the people in her life. As a mother of four, a fitness instructor and a sixth grade teacher, she understands the importance of developing passions and bringing those qualities into the classroom.
Branting says many students come back to see Capriotti due their appreciation for all she did for them, "She truly is an amazing teacher!"
"Teachers play an active role in the overall development of their students, educationally and personally," said Bob Thompson, vice president of sales and marketing for Taylor Morrison's Phoenix division. "We are proud to award teacher of the month to Michelle Capriotti, she has shown the true impact teachers can have when they are passionate and devoted to their students education."
Students and parents of students are encouraged to nominate K-12 teachers in the valley who deserve recognition for their outstanding educating abilities and making a difference in their student's lives.
KEZ's Marty Manning will surprise each monthly winner with a visit and present them with an Excellence in Education Award. The visit will be broadcasted during the Beth and Friends Show, which airs weekdays from 5-10 a.m.
At the culmination of the school year the "Teacher of the Month" winners are invited to attend a banquet at The Capital Grille in Phoenix where $999 will be awarded to one special teacher.
For more information on Taylor Morrison's "Teacher of the Month" or to nominate someone please visit www.kez999.com.
For more information about Taylor Morrison and its communities, please visit www.taylormorrison.com.
About Taylor Morrison
Headquartered in Scottsdale, Arizona, Taylor Morrison Home Corporation operates in the U.S. under the Taylor Morrison and Darling Homes brands and in Canada under the Monarch brand. Taylor Morrison is a builder and developer of single-family detached and attached homes serving a wide array of customers including first-time, move-up, luxury and active adult customers. Taylor Morrison divisions operate in Arizona, California, Colorado, Florida and Texas. Darling Homes serves move-up and luxury homebuyers in Texas. Monarch, Canada's oldest homebuilder builds homes for first-time and move-up buyers in Toronto and Ottawa as well as high rise condominiums in Toronto. For more information about Taylor Morrison, Darling Homes or Monarch, please visit www.taylormorrison.com, www.darlinghomes.com and www.monarchgroup.net.