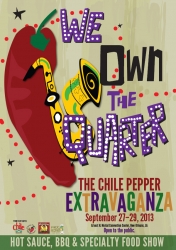 Hayward, CA, October 21, 2013 --(
PR.com
)-- Lucky Dog Hot Sauce out of Hayward, CA takes home 1st place award from a national hot sauce competition in New Orleans, Louisiana.
The Chile Pepper Magazine Extravaganza took place as part of the New Orleans Hot Sauce Festival, where a multitude of companies competed in double blinded judging to win the prestigious Chile Pepper Magazine Award.
Lucky Dog Hot Sauce Orange Label, a savory blend of fire-roasted Jalapeno, Serrano & Habanero chiles with varietal Asian cayenne and roasted garlic took home a 1st place in the "Hot/X-Hot Pepper Blend" category, once again confirming their place among the most flavorful hot pepper sauces available on the market today.
Along with the Golden Chile for Green Label in the broad "Mild - Consumer Ready" category in January, 2013 this marks the second 1st place award, and 6th award overall this year for the small start-up company out of Hayward, CA.
With the recent release of Lucky Dog Hot Sauce Black Label, Extra Hot with Trinidad Scorpion & ghost peppers complimented by fig and apple getting strong reviews and with 2 new and exciting flavors due out in November, 2013, Lucky Dog Hot Sauce will continue to bring the heat into 2014 and beyond.
"My mission is to produce the most balanced, flavorful and versatile hot sauces possible - ones that can be used on everything and appeal to all tastes from moderate to strong heat, without overpowering food. I have great respect for people who cook well and/or appreciate a good meal. The best compliment to Lucky Dog Hot Sauce is that people choose to use it liberally on their favorite dishes." -Scott Zalkind, Owner, Lucky Dog Hot Sauce
Lucky Dog Hot Sauce is available at quality food retailers throughout Northern California, and in select locations in 7 other states.